AMALIA'S KITCHEN: Festive Desserts for the Holidays from Guatemala
When you have a sweet tooth, Guatemala has plenty of options to offer, from decadent desserts to lighter, fruit-based treats.
I must admit that I have a weakness for some sweets made either with fresh fruits or dark chocolate. While growing up in Guatemala, I got used to this because my mother and grandmother rarely made heavy desserts.
When I design menus for my events, I concentrate on making substantial meals and ending them with a quick and easy bite of seasonal fruits, and this is usually well received.
With the wide array of fruits (and vegetables) available at Guatemalan markets, it is easy to make fruit cocktails, poached fruit, fresh cut-up fruit appetizers and more.

One of the reasons fruits and vegetables taste so good in Guatemala is that most are locally grown and vine-ripened. This makes a big difference in taste. The added bonus with natural sweets is more nutrition and fewer calories.
Denser fruits work best for desserts because they hold well for cooking, poaching or marinating. I like certain combinations of flavors and textures of fruits such as cantaloupe, pineapple, papaya and mango, and then garnish them with more delicate, small and pretty fruits — strawberries, raspberries, blackberries and others. A fruit dessert is more complete if we add something green for contrasting flavor, aroma and eye appeal.
During the holiday season I often create desserts with rum, wine or fortified spirits for zest and flair. Guatemalan rums such as Botrán and award-wining Zacapa Centenario are so delicious they can also be used for flambéing desserts, such as Guatemalan-style bananas foster, or to flavor a sauce. Since only a small amount is needed, excellent rums are actually an inexpensive option that can add a festive touch to your holiday table.
¡Felices Pascuas y Próspero Año Nuevo!
Fruit Coctail / Coctel de Frutas
This treat will please any crowd, from children to adults. There's no tastier and easier way to pack a ton of vitamins into a small cup. You can build this dessert further by adding other seasonal fruits of your choice. This is one of my favorite fruit combinations.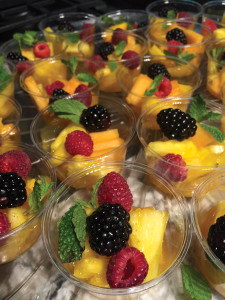 Serves 2
Sauce
1 cup freshly squeezed orange juice
¼ cup honey
½ to ¾ tsp ground cinnamon
¼ cup of rum (optional)
1 cup cantaloupe, diced
1 cup pineapple, diced
Garnish
2 raspberries (or 2 strawberries halved)
2 blackberries
2 mint leaves
In a bowl, combine all the sauce ingredients and whisk to dissolve the honey for 2-3 minutes. Taste and add more honey, if desired.
Add the fruit to the bowl with the sauce and let sit for an hour or more in the refrigerator before serving.
Divide into two clear dishes and garnish.
AMALIA'S KITCHEN by chef and author Amalia Moreno-Damgaard (AmaliaLLC.com)