Fashion Forward Guatemala
"Guatemala is a spectacular explosion of color and culture," says international fashion designer Raúl Briceño. "Since moving here four years ago, this beautiful country and its amazing people have inspired me to pay homage to the rich cultural history by fusing its many unique, traditional Mayan fabrics with modern fashion designs.
"It's exciting to be a part of Guatemala's rapidly growing fashion industry and to help show the world that this country is to be celebrated for its rich past," says Briceño, "but also for its uniquely creative fashion forward direction which brings together modern fashion with Guatemala's Mayan culture.
"The people of Guatemala are strong, and even though they face some significant challenges, they steadfastly remain focused on family, community, love and happiness," says Briceño, "and my Mayan-inspired collections reflect this. The designs are happy and colorful in honor of the beautiful and positive people of Guatemala."
About Raúl Briceño
Briceño's sophisticated and stylish fashion designs have always been popular in his native country of Colombia, but more recently it has been Central America that has truly embraced his talent.
With runway shows in Guatemala, El Salvador and Nicaragua, Briceño's various collections have gotten rave reviews and a lot of press, both on television and in print.
In Guatemala City, Briceño was the featured designer at Paserla Verano Fashion Show at Paseo Cayala sponsored by AMIGA, a fashion and lifestyle magazine which has highlighted Briceño and his designs in several of its issues.
Shortly after the Guatemala City show, Briceño was asked to present his next collection at El Salvador's Fashion Week, sponsored by ABSOLUT Vodka. And most recently, Briceño presented his latest collection at the very prestigious Mercedes-Benz Fashion Week in Managua, Nicaragua.
Briceño is now receiving invitations to present his collections in fashion shows in Miami and New York City, so it appears this designer's popularity is on its way to becoming global.
In his retail shop, Atelier Antigua, you will also find jewelry and accessories by Anielka Denburg, a rapidly up-and-coming designer.
"Currently my accessory designs blend the traditional with the modern and result in very unique and beautiful accessories with the perfect Guatemalan touch," says Denburg. "In the future I will expand my accessories to include beautiful signature fabrics from other cultures as well … much like Raúl did when he presented his African Collection at the International Cali Afro Show in Colombia."
Briceño and Denburg have made a strong commitment to buy and hire locally, so all garments and accessories that you see at Atelier Antigua are made from materials purchased in Guatemala, and all the workmanship is also done by seamstresses and artisans hired locally.
Revue readers have a special invitation to attend a fashion show preview of Raúl Briceño's new lines/designs (women's, men's children and classics) along with Anielka Denburg's women's accessories at 1pm on Tuesday, August 30 staged in front of Atelier Antigua, La Casa del Conde, within the Café Condesa complex, 5a avenida, west side of Central Park, La Antigua Guatemala
The Future of Fashion in Guatemala
Brenda Enriquez Guerrero, fashion editor of AMIGA The Magazine, agrees with Briceño in that the future of Guatemala's fashion industry is indeed very bright.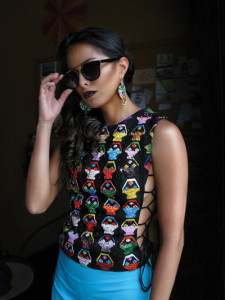 "Guatemala's fashion business has grown impressively," says Enriquez. "Many fashion franchises are betting on this market, and our level of designers here continue to increase in talent, and they are all committed to designing unique garments that can compete with designers from around the world."
Another optimist about Guatemala's fashion future is Álvaro Toscano, who until recently lived in the U.S., where he was a regional manager for Banana Republic.
"I believe Guatemala is rapidly approaching a creative tipping point," says Álvaro, "which is why I have moved to Guatemala. I want to be a part of a fashion market that I think is about to explode.
"With more than five million people, Guatemala City is the largest and most cosmopolitan city in Central America. And now with a rapidly rising middle-class, it is perfectly positioned to become Central America's fashion and culture center," says Álvaro, who is now the business director of Briceño's men's line.
Even the iconic fashion magazine Vogue appears to be in agreement. In a recent article about Guatemala, writer Kristin Tice Studeman said the country is "… experiencing a creative boom that's attracting big interest … Mexico City before it was what it is today? That's not far off."
PHOTO SHOOT CREDITS
Makeup artist Marta Fernandez
Hairstylist Sandra Santizo
Photographers Raúl Briceño /Pedro Ruiz/Alex Jones
Women's accessories AA collection
Clothing Preview Spring/Summer 2016 Raúl Briceño
Models Maria Teresa Ramirez, Cintya Contreras, Kamila Christiany Castellanos, Max Denburg, Audrey Buderus
Location La Antigua Guatemala
Creative Director Raúl Lenis Briceño
Stylist Raúl Lenis Briceño, Álvaro Toscano
In collaboration with Anielka Denburg
All the featured clothing & accessories can be found at Atelier Antigua inside Cafe Condesa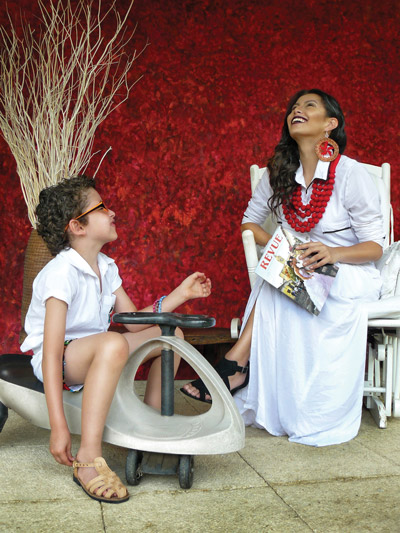 REVUE article by by George Sansoucy
Photography: Pedro Ruiz, Raúl Briceño, Alex Jones
Clothing by Raúl Briceño