Fair Trade Christmas Gifts
by Julie Potvin Lajoie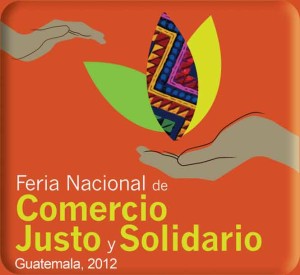 From Dec. 7 to Dec. 9 the third edition of the Feria Nacional de Comercio Justo y Solidario will be held in La Antigua Guatemala. Within the walls of the Centro de Formación y de la Cooperación Española, more than 30 groups of artisans, skilled in everything from textile and agricultural products to woodwork and crafts, will welcome the public in discovering their organizations and products.
This special event is organized by the Comisión Interinstitucional de Comercio Justo y Solidario, a subdivision of the Ministry of Economy, with the collaboration of the Centro de Estudios y de Cooperación Internacional and local craft associations. The objective of the fair is to give an opportunity to small, local producers to show and sell their products, and to promote fair trade and the talent behind it in Guatemala's local economy.
"Comercio Justo y Solidario" refers to products made according to the fair-trade principles and mostly a respect for the work of the artisan. The selling price is calculated according to the hours of work needed to make the products and the cost of the materials. Quality control is one of the most important aspects for the groups attending the fair, the main goal being the assurance of fair prices for artisans and consumers who purchase high-quality products.
By buying at the Feria Nacional de Comercio Justo y Solidario, patrons will be helping to promote respectful labor conditions and a fair salary for the producers while contributing to the development of an entire cooperative or association. Consumer support helps foster more inclusive and sustainable development for Guatemala.
This will be the perfect occasion to buy beautiful, original and ethically produced gifts for the holiday season, and will help support the local economy. Most of all, you can buy directly from the artisans and give something meaningful. Come and enjoy cultural displays of dance, marimba, classical music and more presented during this unique event.
Exhibitors look forward to welcoming you Friday, Dec. 7, 11:30 a.m.-6:30 p.m.; Saturday, Dec. 8, 9:30 a.m.-6:30 p.m.; and Sunday, Dec. 9, 9:30 a.m.-4 p.m., in the atrium of the Centro de Formación y de la Cooperación Española, located on 6a avenida between 3a and 4a calle. Admission is free.
Julie Potvin Lajoie is a Fair Trade Marketing Advisor