Dining Out, West End Style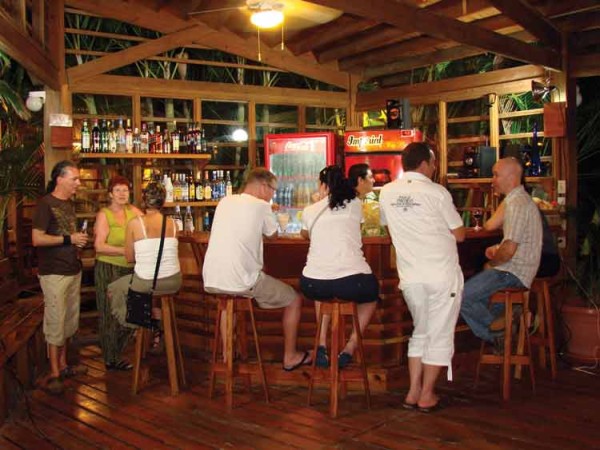 A gastronomical tour of Roatan's West End
by Monish Welcome
Whether it is a night out with the family, a romantic date or a fun night out with friends, restaurants in the West End provide great options! In this colorful community, visitors can find great places to dine any time of day, every day. West End is known for its variety of first-class restaurants, all with friendly service offering a relaxed environment where enjoying the Caribbean charm is inevitable.
Splash Inn, an Italian restaurant and bar in the heart of West End, offers a variety of dishes, ranging from pizza to fresh local seafood. The open-air atmosphere provides a relaxed experience where the view of a beautiful beach is just an extra thing to love about this place. In addition everyone will enjoy the reasonable prices and the friendly staff that come along with unique, European-style service.
For a spicy dish, Cannibal Café is the place to visit. In this one-of-a-kind restaurant you find delicious Mexican cuisine for lunch and dinner. Being a leader in the restaurant business in West End, Cannibal Cafe maintains its enormous prestige thanks to its tasty food and attentive service.
The Argentinean Grill in Half Moon Bay, West End, offers a very stylish, relaxed open-air environment. Also known as Restaurant Parrilla Argentina, this destination makes it easy to enjoy an evening of fantastic appetizers and main dishes of grilled seafood, beef and chicken. Fresh salads, desserts and wine are more reasons to love the place. The full international bar service blends in perfectly with the comfortable eatery, which serves some of the best food in all of Roatan.
Light House is the perfect place for a romantic date—the palm trees, glistening water and light breeze set the mood for a wonderful night. The view is fantastic and the open beach deck, just lovely. The kind staff adds to the comfort level here, and, as if it is not already a great experience, the chef checks up on the guests to make sure everything is running smoothly.
Café Escondido, located above West End Divers, is a relaxed, open-air restaurant that offers a mix of dishes and a daily diver's special. The noodle bowls and rice dishes are delicious, and the relaxed atmosphere, accompanied be friendly staff, makes this a great place to enjoy a meal. Café Escondido also hosts Sunday Nights with Sangria, which includes relaxed music, tapas and of course its signature sangrias.
Tongs Thai Restaurant is one of the dining highlights of Roatan if not all of Honduras. The authentic Thai dishes are amazing, the staff friendly and the location is just well, wow—enjoy dining on the dock over the water or dine from the terrace. Tongs really does tick all the boxes. Every visitor to Roatan should have at least one meal at Tong's; customers will not be disappointed. Tong's tongue-tickling dishes will have you coming back for more.
Nestled in a garden setting off the main road in Half Moon Bay, Earthmama's offers a range of healthy and fresh dishes for breakfast or lunch, and its serene atmosphere allows you to really relax and soak up the tropical atmosphere. Earthmama's also hosts weekly Yoga classes, and the overall setting of the place is infused with peace and serenity.
West End is a great place. Its tranquil and happy environment is infectious, don't miss spending some time there!