December 2013 in Revue Magazine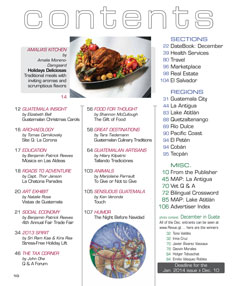 The holiday season in Guatemala is an explosion of lights and colors, the sound of church bells and music, along with the smell of delicious food wafting from kitchens great and small. Holidays Deliciosas features traditional meals with inviting aromas and scrumptious flavors. A complimentary article is Guatemalan Culinary Traditions. In the The Gift of Food readers will discover that the memories of good food can linger long after the last morsels have been eaten. Rounding off the holiday spirit is Guatemalan Christmas Carols. Gift giving suggestions can be found in the 4th Annual Trade Fair Trade and Tallando Tradiciónes. For some the holidays can be overwhelming, a Stress-Free Holiday Lift can be the remedy, and for a lighthearted lesson in a blending of English and Spanish we present The Night Before Navidad. The December Holiday Calendar comes in handy when planning this month's activities.
Other features include the inside story behind Site Q: La Corona; Música en Las Aldeas is good news for young musicians; also find out what chewing gum has to do with the outrageous La Chatona Parades!
Advice can be garnered from The Tax Corner along with To Give or Not To Give. Touch is the focus of Sensuous Guatemala.
Additional December activities include lectures, films, art shows, concerts, opera, presentations and dance.
We hope you enjoy this month's edition, as always feedback is most appreciated. Stay with us on the Revue Facebook page for updates and the website: www.revue.gt where you can download this edition and previous editions, search articles and view some amazing photography submitted via our monthly Photo Contest.
Happy Holidays!
—John & Terry Kovick Biskovich