December 2012 in Revue Magazine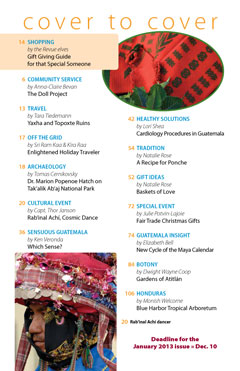 The end of another year is upon us, and the end of an era, thus starts the beginning of a new one. Holidays and special events abound this month and the desire for Peace on Earth is in the hearts and minds of many.
Gifts and resolutions are the order of the day, and with that in mind we offer many suggestions for some just-right presents and where to find them for the special people on your gift-giving list.
Other than shopping advice, we have also included articles and stories on travel, archaeology, tradition, health, nature, community service and some insightful information for your reading pleasure. There is plenty to do and see in this special season, and you can find a lot of options in our December DateBook.
If you need any cultural event updates throughout the month or would like to check out our monthly Photo Contests, be sure and visit our Facebook page.
All of us on the Revue team wish all of you and your family the very best this holiday season and may all your adventures be safe and rewarding.
—John & Terry Kovick Biskovich