Crafting Ceramic Art in Antigua
Another generation creating centuries-old Christmas traditions in La Antigua by crafting ceramic art.
The Rodenas family has been well known in La Antigua Guatemala for centuries for making ceramics. Don Francisco Rodenas made loza (ceramic dishes) and added an innovation at that time as he began to make miniature items, including toy figures that were then painted and became popular in local markets.
His son, don Arturo, continued in his tradition as the entire family worked in their workshop in the neighborhood of El Chajón. When Florencio was born in 1918, he learned the techniques as a child with his brothers and sisters.
Don Florencio became famous for his miniatures, including the toy figures (at first), miniature tea sets and then beautifully painted butterflies, turkeys, animals, fruits and owls (like piggy-banks) we still find today in artisans' markets.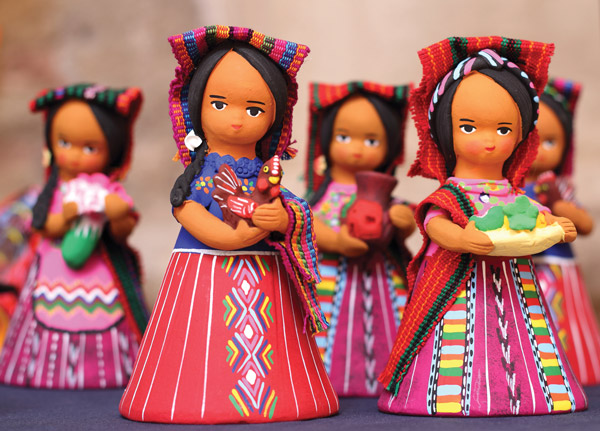 Don Florencio was truly famous for his miniature Nativity figures. This tradition continues through his children and grandchildren, particularly his daughter-in-law, Clara Luz de Rodenas, and grandson, Gerson Roberto Rodenas López, who are working today.
These figures are exquisite and unique! Gerson makes the clay figures, based on the tradition his great-great grandfather passed on to the entire family. Clara Luz paints them, as you can see as she labors away on a table she set up in the ruins of the Cathedral of San José in Antigua.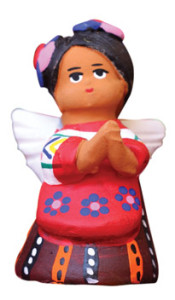 Today she paints them with traditional Maya dress. The workmanship that goes into the figures, no larger than 2½ inches in size, is remarkable. Clara Luz and Gerson also produce larger traditional angels and figures that have made the Rodenas family famous over the centuries.
The tradition of Nativity scenes in Guatemala is also centuries old. First introduced in Italy by St. Francis (1223), Nativity scenes were made popular in Guatemala by Santo Hermano Pedro in the 17th century.
We will find them throughout the country during Christmastime as many businesses and families create elaborate nacimientos integrating local flora, fauna and figures, including those with Maya dress.
The tradition of Nativity scenes and century-old ceramics come together in Antigua.
REVUE article by Elizabeth Bell, photos by César Tián