Clean Water for Schools in Guatemala
In Guatemala, 97 percent of rivers are contaminated. The poor of the country, who depend on streams and rivers for drinking water, are left to drink a parasite-infested liquid that wreaks havoc on health. Tragically, it also causes the death of 1 out of 20 children before the age of 5.
The impact of intestinal disease in these children and families leads to a host of other issues such as stunted growth, lost workdays and missed schooldays. Given Guatemala's young population, with half under the age of 18, the result is a society-wide catastrophe of lost potential.
Ecofiltro is an efficient, ecological and economical solution to water purification that is culturally accepted. For the last seven years, Ecofiltro has reached over 200,000 families. However, there are still 1 million families without access to potable water. The vast majority of these families are in rural areas, making it especially difficult to reach them.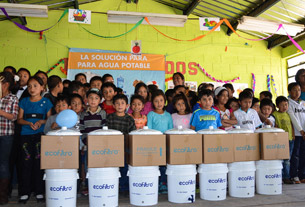 To address this urgent need, Ecofiltro is partnering with schools as a way to educate and model the use of clean water. Schools themselves are faced with a crisis. One out of four public schools lack potable water in rural areas. Through its School Program, Ecofiltro donates filters to classrooms, where children not only gain access to potable drinking water, but also become advocates of using the filter in their home. Ecofiltro, in the last 18 months, has already reached 1,200 schools, impacting 360,000 children.
School is the logical place to reach families in rural areas, as it serves as a community center and trusted place of gathering. Schools partner with Ecofiltro by inviting parents for an informative chat on the filter. The families are shown how purchasing an Ecofiltro can lead to significant health benefits and reduced costs in firewood usage, as water boiling is no longer necessary.
The average rural Guatemalan family boils their water, spending up to $15 a month on firewood for this purpose alone. Boiling kills germs, but the economic cost and environmental impact is large. Through Ecofiltro's Water for Life program, families are given the opportunity to finance their purchase of an Ecofiltro at a price that pays for itself in less than three months versus boiling.
The School Program thus successfully meets two needs: It provides clean drinking water to children in school, and secondly, it serves as a catalyst to reach and educate potential rural customers for Ecofiltro. We have found that for every 10 filters that are placed in a school, 20 families purchase a filter during the school year.
As these families take their Ecofiltro to their community and use it, neighbors and friends see its benefits and purchase their own, creating a sustainable, multiplier effect. The school itself commits to purchasing the replacement filter every two years as a condition before receiving the initial donation of filters.
For more information visit
ecofiltro.org/en/school-program