Chapin Cookout
Amalia's Kitchen. A Fun Way to entertain Guatemalan style.
It sure is that time of year in the United States when family and friends gather to enjoy the warm weather months cooking outdoors. In Guatemala, thankfully, this happens all year long!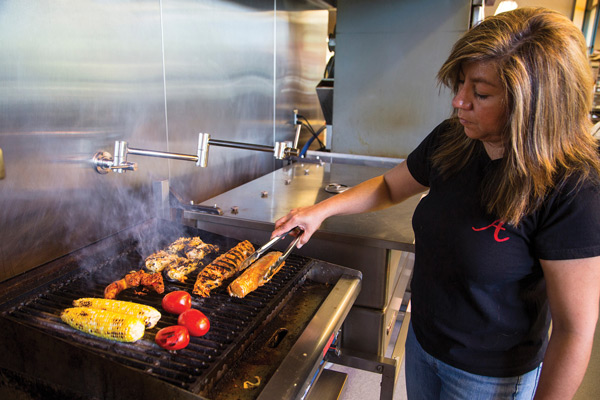 In Guatemala, a cookout is called a churrasco, and like the English word barbecue, it can refer to either grilled meats or a gathering at which grilled meats will be served. During a churrasco gathering, family and friends congregate around the parrilla (grill) to share a good time and to celebrate. Churrascos are the perfect mix of socializing and eating fun, casual and delicious food.
When I lived in Guatemala City, I recall getting together with co-workers annually for the company barbecue. Everyone would participate in the preparation and cooking, and this helped people bond outside the office. Thinking back and applying this concept to modern times, I realize that we were actually team-building during these events.
Preparing for a Guatemalan barbecue is easy. Simply plan a menu around one or a few proteins and complement these with a few sauces and vegetables that are conducive to grilling. Churrasco options are many. Some of my favorites are the ones that are not only scrumptious, but take only minutes to prepare.
You are in for a tasty treat with a plato Chapín (traditional Guatemalan barbecue plate) containing carne asada con chirmol (orange and onion-marinated steak with charred tomato and mint salsa) complemented with guacamol Chapín (Guatemalan guacamole), elotes asados con limón y sal de mar (grilled fresh corn with lime and sea salt in corn husks), frijoles volteados con queso fresco (refried black beans with fresh farmer cheese) and plátanos asados (grilled plantains). Corn tortillas, chilito (bird's eye chili, onion, lime and olive oil sauce) and a cold beer are the perfect pairings.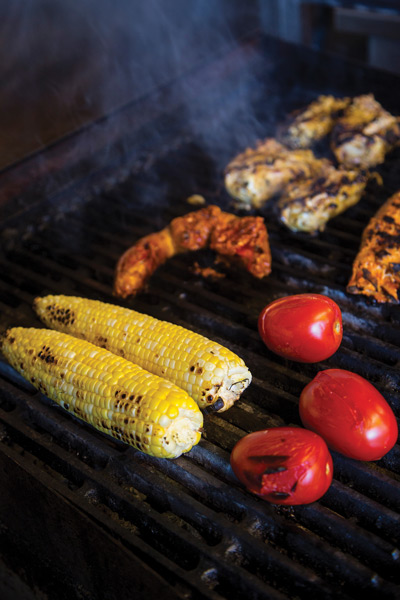 Guatemala is home to many good Argentinean and Uruguayan steak houses, so chimichurri (garlic, parsley and oregano sauce), papa horneada (baked potato) and ensalada mixta (lettuce, red onion, avocado and tomato with olive oil and red wine vinegar) are also popular barbecue foods. Sometimes you will encounter a hybrid barbecue party where these foods and Guatemalan foods come together. The combination is divine. While visiting Guatemala, stop at one of the steak houses where you can cook your own steak right at your table. It is a fun experience for everyone
Another favorite of mine is pollo al carbón (grilled chicken marinated in sour tangerine and cumin sauce — recipe below). Marinating the chicken in this sauce produces a deliciously moist chicken. The sauce takes minutes to prepare, and it can be used with pork, ribs, beef or fish with equally delicious results. Carbón means charcoal and refers to the cooking method. In Guatemala, it is customary to use natural charcoal for economic reasons. Mercados (municipal markets) sell small quantities of carbón along with pine sticks as fire starters.
Grilling is very personal. Everyone has a unique style and preferences. Whether you cook with natural charcoal or a gas stove, the end result will still be superb. ¡Buen provecho!
POLLO AL CARBÓN
Grilled Chicken Marinated in Sour Tangerine and Cumin Sauce.
Recipe by Chef Amalia Moreno-Damgaard (Amalia@AmaliaLLC.com)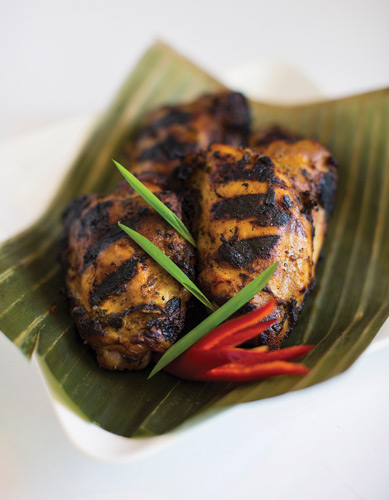 Serves 4 to 6 people
Salmuera (Marinade)
1 cup freshly squeezed tangerine juice
1/3 cup freshly squeezed lemon juice
1 teaspoon finely chopped lemon zest
1 tablespoon canola oil
1/2 cup thinly sliced onion
1 tablespoon minced garlic
1 teaspoon ground cumin
1 teaspoon crumbled dried oregano
1 tablespoon chopped fresh mint
1 tablespoon chopped fresh cilantro
1 teaspoon kosher salt
Freshly ground black pepper
4 to 6 skinless chicken thighs, fat removed, rinsed, patted dry.
Directions:
1. Combine all the marinade ingredients in a Ziploc bag and mix them well.
2. Place the chicken in the bag of marinade, seal it, and work the marinade into the chicken until all the pieces are well coated. Marinate in the refrigerator for 3 to 5 hours or overnight.
3. Preheat the grill (see Amalia's notes below).
4. Grill the marinated chicken on medium-high heat until cooked, 3 to 4 minutes per side. (Alternatively, roast in the oven at 375°F until cooked, 20 to 25 minutes.)
Amalia's Notes
If you are using natural charcoal (carbón), wait until some ash has formed on the coals. Lay the chicken on the perimeter of the grill to keep it from burning.
Amalia Moreno-Damgaard is an award-winning bestselling chef author born and raised in Guatemala City currently living in the Twin Cities. She provides individuals and companies with a taste and understanding of Latin cultures through healthy gourmet cuisine education, consulting, bilingual speaking and writing and fun culinary experiences.

Her cookbook "Amalia's Guatemalan Kitchen-Gourmet Cuisine With A Cultural Flair" has won 9 international awards.  AmaliaLLC.com