Cerámicas de Atitlán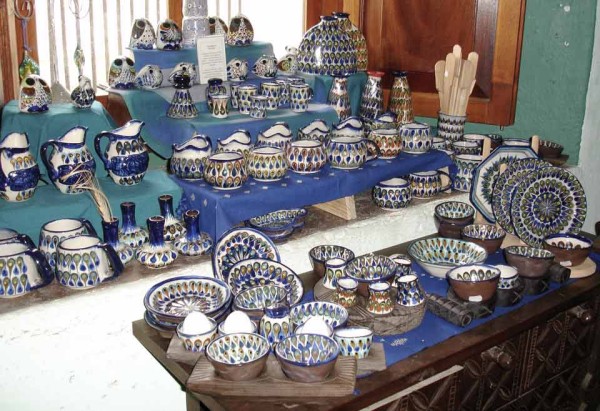 Text & photos by Hilary Kilpatric
"I hope to use my craft to improve the lives of my family and my village and give my children a chance to get ahead," explains potter Felipe Peréz.
Cerámicas de Atitlán is an artisan group run by two brothers in a small town on the edge of Lake Atitlán. Felipe and Francisco Peréz were trained at a young age by the famous Ken Edwards and since have built a business around their craft.
Edwards is credited with inventing a form of stoneware ceramics that combines various techniques: the famous Tonolá hand-painted decorations, ancient Chinese technology of reduction-fired celadon stoneware and Edwards' original designs.
Edwards is from Kansas City, Missouri, and moved to Guadalajara, Mexico, in 1959 after receiving his degree in sculpture and ceramics from the Kansas City Art Institute. He developed his stoneware ceramics technique in Guadalajara and later moved to Guatemala.
Upon arriving in Guatemala in the 1990s, Edwards settled in a tiny, very poor lakeside town. The Peréz brothers became friends with Edwards, helping him settle in to the community and doing various tasks around his house and workshop. Eventually, after much prodding by the Peréz brothers, Edwards decided to teach the boys how to make this style of ceramics.
"My first piece was a plate that I made without a mold. It was not very good and broke easily," Francisco Peréz recalled. "However, after practicing and learning how to use the mold and work with the clay, I learned how to make quality pieces that people can use in their homes for years."
When Edwards decided to leave Guatemala and retire, he left the workshop to the Peréz brothers. They now have six other people working with them and survive off the income from their workshop.
The Peréz brothers are natives of San Antonio and come from a long line of subsistence farmers. They both saw the chance to learn to make ceramics as a great opportunity to escape the cycle of poverty and now have been running the workshop for 17 years.
The pottery-making process consists of 10 steps, and each piece takes approximately five days from start to finish. "I like doing all of it," says Felipe Peréz. "When I spend my day doing a little bit of each part of the process, from filling molds, to sanding pieces, to painting or glazing, I never get bored and I can stay creative."
The Peréz brothers make a variety of ceramic creations, ranging from utilitarian mugs, teapots and plates, to decorative pieces, such as owls, fish and butterflies. All pieces are lead free and microwave safe. The workshop does not use any harmful substances in the process.
Cerámicas de Atitlán products can be found in La Antigua at Casa de los Gigantes, 7a calle oriente #18, across the street from the San Francisco Church.