Catch-and-Release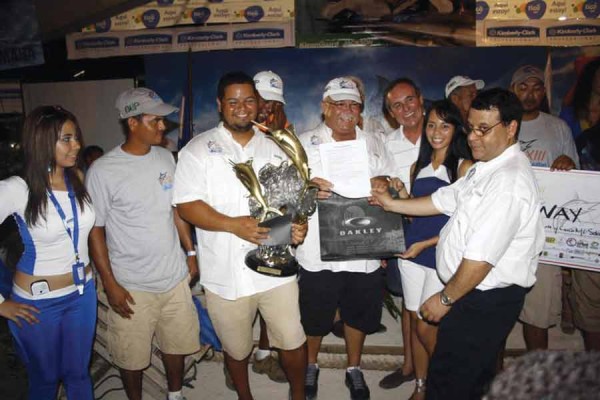 Roatan's Annual Fishing Tournament
by Monish Welcome
After 13 years, Roatan's Annual International Fishing Tournament keeps getting better. With more competitors and sponsors than last year, the Sept. 13-16 event coincided with celebrations of Honduran independence, making for a busy, festive week on the island of Roatan, the largest of the Honduran Bay Islands.
The event began Thursday night with registration at the Coconut Tree parking lot and a captains' meeting, followed by the impromptu start of the West End Carnival. Although the carnival was scheduled to begin Friday night, our enthusiastic islanders started early.
The fishing began Friday morning— anglers could fish from 6 a.m. to 5 p.m., after which the carnival officially started. Sopa, Joseph and The Boyz, DJ Sambula, DJ Buggy and other local artists performed until midnight, but the fun didn't end there. Since West End is the place to find bars, music and great nightlife every one headed to Nova, Foster's and the Booty Bar to continue celebrating.
On Saturday, the fishing day was 5 a.m. to 5 p.m. The action was nonstop both at sea and in town. Food stands dotted the new West End road; many restaurants took the opportunity to sell while locals too, made extra cash by selling island cuisine. Day into night, carnival fun continued with Sopa and Joseph, DJ Buggy and DJ Sambula.
After a half day of fishing day on Sunday, anglers reunited with their families for the Kidz Culcha party on the beach with the Dancing Kidz. Families enjoyed games, dancing, music and contests all afternoon. That evening the awards ceremony was held at Coconut Tree parking lot, followed by entertainment featuring the award-winning artist Brion James, Bobby Rieman, Kristofer Golman and many others.
Roatan's International Fishing Tournament, which for the third consecutive year followed catch-and-release standards, was an overwhelming success. Tournament organizers were pleased with the results and especially with the participation of 47 boats and 235 competitors, an 11% increase over 2011. There were also more national and international sponsors, including CashWiz, American Airlines, TIGO, Kimberly Clark, TELEPROGRESO, Canal 10, Noticiero Abriendo Brecha, Café Caliente, Emma Calderón and La Prensa, among others.
During the awards ceremony, Roatan Mayor Julio Galindo announced that this year's tournament had been the best so far. This was the first of many surprises.
Mr. Yves was part of the crew of the first-place winning boat No Way; when he climbed onstage to receive his award, the Swiss-Honduran congratulated the organizers for exceeding all expectations. Mr. Yves then announced a personal donation of $10,000 to help produce an even better tournament in 2013.
For this year's fishing tournament, Robin King from Roatan Yacht Brokers donated a very special scale, which is officially recognized by the International Game Fish Association—the world authority for fishing tournaments and fishing world records. In late 2011 IGFA awarded its IGFA-Chester H. Wolfe Sportsmanship Award to Captain Loren Monterroso, Chairman of Roatan's International Fishing Tournament, becoming the first Latin American to be a part of the Hall of Fame of International Fishing.
The tournament was divided into three categories: Bill Fish (37 vessels); Rodeo (eight vessels); and Junior (two vessels). The categories and winners were:
Bill Fish category
– Captain Marcos Rosales, boat: No Way, caught: blue marlin and a sailfish
– Captain Eric Galindo, boat: Captain Lenden, caught: blue marlin
– Captain Raúl Ruíz, boat: Ice Cube, caught: blue marlin.
Rodeo category
– Captain Ken McNab, boat: Knot Tide, caught: wahoo, 41.9 lbs
– Captain Terren Bodden, boat: Wahoo Retriever, caught: wahoo, 38.7 lbs Captain Justin Workford, boat: Billy Kai, caught: wahoo, 36.7 lbs.
Junior category
– Captain Eddie Miller, boat: Captain Nige, caught: wahoo, 15.8 lbs
– Captain Eddie Miller. boat Captain Nige, caught: barracuda, 10.1 lbs
The group organizing the event founded AHPESCAR (Asociación Hondureña de Pesca Deportivtia Responsable) with the purpose of improving the tournament every year and establishing Roatan as an international destination for the sport and protecting marine life surrounding the island. AHPESCAR's board is made up of:
President: Loren Constantino Monterroso Maso; Vice President: Kyle Trevor McNab Thompson; Secretary: Chris Darren Rosales Jackson; Treasurer: Devin Winsley McNab; Prosecutor: Gary Lesley McLauhlin; Vocal No. 1: Denny Simmons Cooper Bodden; Vocal No. 2: Tulio Monterroso Bonilla.
Roatan's International Fishing Tournament donates 10% of the funds made in the event to the Little Friends Foundation, which received a check (in lempiras) for L. 42,174 during the closing ceremony. The Little Friends Foundation is a non-profit organization that donates equipment, medicine and other important supplies to health clinics throughout the Bay Islands.
The Fishing Tournament Association will now begin to organize the XIV International Fishing Tournament, which again will coincide with Honduran Independence Day celebrations in September 2013.
For more information visit: www.roatanfishingtournament.com