BOOK ALERT Traditional Weavers of Guatemala
Their Stories, Their Lives.
by Deborah Chandler and Teresa Cordon, photography Joe Coca.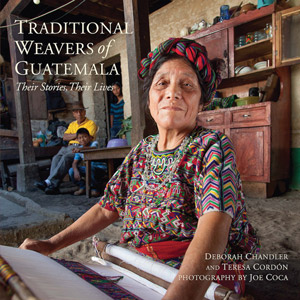 And what stories. What lives. Twenty weavers, dyers, spinners and basketmakers, between the ages of 33 and 89. In each of their lives, adversity was not only survived, but overcome, to produce beauty reflecting the traditions of the Kaqchikel, Tz'utujil, K'iche', Ladino, Ixil, Q'eqchi, Poqomchi' and Achi of Guatemala. The blend of their lives and works produce a colorful kaleidoscope of Guatemala, this beautiful and unique country rich with varied cultures.
In some cases, the featured artisans lost family members during the "Time of Violence." In others, they overcame the constraints of the life they were born to live. Susana Lopez, Poqomchi', 60, of Tactic, Alta Verapaz, finished second grade and learned to weave.
Then, her parents arranged a wedding for her. Susana felt that she would go from being her parents' property to being the property of her husband, so—with the help of her godmother and the local priest—she went to live with nuns in Guatemala City. There she was able to complete the fourth grade, and was paid Q15 ($2) a month for her work.
When she returned to Tactic at 18, Susana bought four small pieces of land with the money she had saved. It was farming this land, and weaving the two traditional huipils of Tactic, that sustained Susana and her five children when she once again defied societal norms and left a marriage she says was not a good one.
Now, failing eyesight and back pain prevent her from weaving, so she takes the work of others to market for them. The two best markets, Susana feels, are the Ixchel Museum of Indigenous Dress and the Artisan Market, both in Guatemala City, four hours from Susana's home.
Through 20 featured lives, authors Deborah Chandler—a weaving teacher herself—and Teresa Cordon—educator and marketer for the work of Maya artisans— weave the story of Guatemala.
Domingo Asicona, Ixil, 89, of San Gaspar Chajul, Quiche' taught himself a netting technique to make moralles (shoulder bags) from maguey (agave or sisal) that his father grew. When the market for maguey declined all over Guatemala, Domingo's farm stopped harvesting it. Until two years ago, he was still able to purchase small quantities of already processed maguey fiber, but then, even that disappeared from the market.
Domingo decided to continue weaving with a new "fiber"—the strips of plastic he can pull out of costals, the large synthetic woven bags that hold grain, sand or vegetables. At 89, he continues to adapt to his changing world by producing beauty, with, according to the authors, a sly grin that "suggests a lifetime of mischief-making."
Because the authors are so familiar with the art of weaving, they have included short descriptions of the actual mechanics of the various techniques used to produce the whole. Tomasa Siquina, K'iche', 67, of Salcajá, Quetzaltenango, is an amarrador, a person who ties jaspe, tie-dye done on yarn before the yarn is woven. In an aside, the authors provide the 25 steps involved in producing jaspe.
Much of the beauty of this book is the work of Joe Coca, photographer, who captures the very essence of each of the artisans depicted. In addition to the portraits of the artisans, frequently taken with their family members in their own homes, Mr. Coca has given us page after page of beautiful textiles, as well as scenes of the beauty and culture of Guatemala.
This is a book to be added to any library of Guatemala: for the information it contains, for the beauty of the photographs, and for the mischievous grin of Domingo Asicona.
Available in Guatemala City: Sophos (Fontabella, z.10), Artemis Edinter (all stores). Museo Ixchel del Traje Indígena. Proteje (Mercado de Artesanías by the airport – La Antigua: Casa de los Gigantes, Ixcaco Santiago Atitlán: Posada de Santiago – Panajachel, Lake Atitlán: Librería Macaco – Chichicastenango: Hotel Santo Tomás
US/online: Amazon (www.amazon.com), Cloth Roads (clothroads.com), Mayan Hands (mayanhands.org)
BOOK ALERT by Dianne Carofino