Baskets of Love
Sending holiday cheer and warm wishes this Navidad season with culinary delights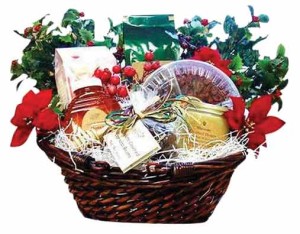 The holidays are a time for family and loved ones; it's a time to take a few moments, sit around a table, preferably sans iPhones, with a glass of wine or hot spirits, chatting about the events of the year past and exciting times for the coming year. It's a time to share meals that do not come from take-out boxes or prepared on a whim, but food that takes not only time and effort to prepare, but also love. Nothing says love better than food.
Holiday food and gift baskets are a perfect way to send some love this holiday season and some of the best culinary-centric shops in La Antigua Guatemala have gifts for you. Check out these food basket ideas with products ranging from organic chocolate to artisan pickles to gluten free goodies or customize your own mix of specials products—they're second only to Mom's homemade tamales colorados on Christmas morning.
Orgánica
(5a calle poniente #6, La Antigua)
Orgánica carries a wide range of products including natural and/or organic packaged crackers and snacks like Stacy's Pita Chips, Annie's popcorn and all manner of Back to Nature cookies and nibbles. Pamper tired skin with Desert Essences and Alba products, like the Cranberry and Mimosa gift set including organic lotion and body wash. For the sweet tooth, check out Torie & Howard Organic Hard Candy, Green and Black Organic Chocolate and calm frazzled holiday nerves with Yogi teas. Gluten free? Look no farther. Organica carries a wide range of breads, pastas, crackers and sweets, all GF!
Choco Museo
(4a calle oriente #14, La Antigua)
As the name would suggest, this is where you need to come for all those chocolate lovers on your list. Whole cocoa beans, nibs, bars, truffles, or blocks for hot chocolate—you name it and the Choco Museo has it, and most reliably in 4 or 5 different flavors! They also carry a range of none-edible choco-related products, like lotions and scrubs, earrings, necklaces and keys chains, even deodorant. If it's chocolate you seek, this is where to go.
Epicure
(3a avenida norte #11-B, La Antigua)
Let's just call this Mecca for your wine swilling, tapas loving friends. Epicure stocks everything you need to send a gift basket filled with tons of goodies to people like bosses, business associates, or anyone who just loves good food. For you French pastry lovers, this writer almost expired when she saw traditional French canelés and croissants. Send imported brie, Parmigiano-Reggiano, and aged cheddar to go with paper-thin slices of prosciutto de parma or coppa piacentia. Throw in olives, a few pickles, and a selection of house-made tapas-like salads like roasted red peppers and a bottle of vino or a 6-pack of Brooklyn Brewery's finest, and you have the makings of a Spanish-style Noche Buena feast!
Sabe Rico
(6a avenida sur #7, La Antigua)
Sabe Rico is probably best known for their organic, artisan chocolates prepared onsite by master chocolatiers (which you can purchase as bonbons, truffles, bars or for cocoa), but they also have a full line of in-house homemade jams, marmalades and chutneys made out of the best Antigua/Guatemala-produce has to offer. Their pickled vegetables come from Caoba Organic Farms—check out the pickled yellow beets. They are to die for!! Round out your basket with house-roasted nuts, handmade crackers and cookies, and a few loaves of the Sabe Rico baguettes.