Barrie Hartley 1935-2010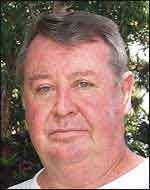 Barrie Hartley, a pillar of expat society in Rio Dulce and Panajachel, has died. He was 75.
Born in Wales to an opera singer and a steelworker, Barrie met Daphne Carter at a boarding school; both were 16. Five years later, they wed and left for Canada the next day.
While working for BellTel of Canada, Barrie attended a seminar in San Francisco. He was stricken by the city, not for the hippie psychedelia then in full swing, but for the sea-swept vistas and the myriad sailboats spangling the bay. The Hartleys stayed there four years, with Barrie working for another telephone company before trading corporate life for a move to Santa Barbara, California, where they bought a boat-chartering business and opened a sailing center. In 1985, they became U.S. nationals.
The following year, Barrie and Daphne sailed down the Pacific coast and through Panama, eventually landing in Rio Dulce, Guatemala. This unplanned stay stretched to 12 years, during which time the Hartleys operated Mario's Marina and opened a specialty foods tienda that became the message board for local expats.
Barrie was, according to residents, someone who could always be counted on to help and who took pride doing well every service he provided. He was also noted for his kindness and an ability to laugh at himself.
In 2000, the Hartleys moved to Panajachel, intent on retiring. It helped that there was a lake nearby, with plenty of boats, but none that sailed, as Atitlán is unsuitable for sailing. But Pana, like Rio Dulce, needed a specialty foods store. Barrie and Daphne soon opened PanaSuper, an institution that reflected what Daphne calls their "gypsy spirit" by switching locations often, but always trading up, and with no loss in clientele.
Barrie's avocations went beyond sailing. Some recalled his British heritage, such as restoring old sports cars (Jaguar and MG); and crafting model airplanes, a legacy of his stint driving trucks in Cyprus for the Royal Air Force in the 1950s. But by age 70, he was nearly blind from eyestrain and sun glare; he encouraged younger people, especially boating enthusiasts, to wear sunglasses.
"We were married 53 years," Daphne recalls. "We had no children, but with Barrie, there was never, ever a dull moment. And, he was the most honest person. He'd always tell you what he thought, like it or not."