Artist Profile, Mendel Samayoa
Mendel Samayoa, a Guatemalan artist whose work has brought him both national and international prestige.
After a series of successful international exhibitions between 2013 and 2015 in England and the United States Mendel Samayoa was invited by the Vice Ministry of Culture to exhibit his work at the Palacio Nacional de Guatemala. Relatos Asimétricos 1 (Asymmetric Stories 1) included twenty-plus new works and more than twenty-five retrospective pieces.
Relatos Asimétricos 2 quickly followed with thirty new compositions that were showcased in San Pedro Sula, Honduras in March 2017. In October of the same year, an additional twenty pieces made up Relatos Asimétricos 3 which was shown at the Artist Room in La Antigua Guatemala's Casa Santo Domingo.
In 2018, Samayoa inaugurated yet another exhibit in Quetzaltenango and another showcased at the Penthouse Cayalá in Guatemala City. In May Penso debuted at the Pensativo House Hotel in La Antigua.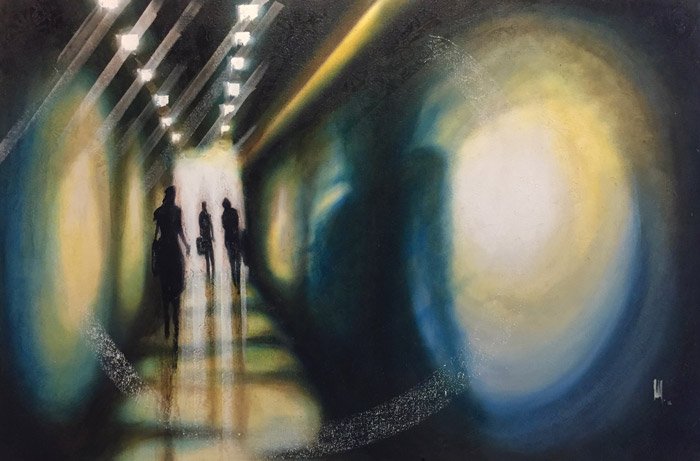 With dozens of new works in oil on canvas, in varied dimensions, a diversity of themes and his characteristic stamp, Samayoa's artistry has brought him both national and international prestige. Strong and sure stroke, unexpected characteristic textures and the revealing human gestures of his famous "washed silhouettes" as the center of inspiration, Samayoa takes us through a unique path that reveals his artistic sensibilities which incorporates figurative expressionism and anthropomorphic surrealism that generate powerful and intriguing art.
He explains, "I consider myself a lover of the unforeseen, the insurgent and the suggestive. I am a visual provocateur that celebrates imperfection.
My job is to stimulate the observer, find links, points, and places to meet. My work is completed with your own interpretations, your explanations and your emotions. I try to unbalance, disturb, move everyone's imagination."
Mendel Samayoa online:
mendelsamayoa.com
behance.net/elmendelba44
facebook.com/elmuroguatemala
instagram.com/artemendel
REVUE magazine article.