Artist Joel Batz Teaches Art as Therapy
"One of Joel's goals is to have an "inclusive" art therapy program open to all children regardless of their physical abilities."
From an early age it was evident that Joel Batz would lead a creative life.
As a child, he watched his father enjoy his hobby of sketching figures and forms, including architectural drawings. Joel describes him as a dibujante (cartoonist). Summer art programs for children ages 6-9 through a church in Quetzaltenango was another stepping stone where he gained experience in a variety of artistic media.
As a young adult Joel studied art in Mexico with his older brother Marcos, also an accomplished artist. Additional training followed in California and at the University of Nevada in Las Vegas.
This soft-spoken man continues to evolve, both as an artist and an art teacher.
Joel is one of the founding artists of Casa para las Artes (4a Calle O. #31) in La Antigua Guatemala, where he and several other artists share workspace and gallery space for their paintings. It also serves as a wonderful venue for Joel to provide art instruction for special-needs children.
Soon after Casa para las Artes opened, children from Colegio Rey de las Naciones were receiving weekly instruction under Joel's tutelage. The children, ages 7-14, have a variety of conditions, including Down syndrome, Asperger's and hearing/speech problems.
Joel arranges classes to develop skills in various techniques and media to enhance creativity and promote interaction by cooperating in developing larger 3-D pieces. He also alternates between completing a piece using a specific technique and allowing the children free rein with their creativity. One of his goals is to have an "inclusive" art therapy program open to all children, regardless of their physical abilities.
On the morning I visited Casa para las Artes, Joel announced the morning's assignment. The children would be continuing their work with pastels. Pastel in Spanish means "cake" … one child on hearing this joked, "yummy!"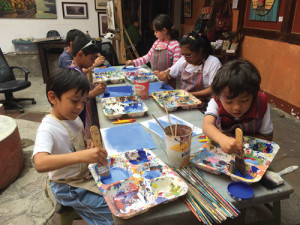 To develop fine motor skills, Joel teaches his young artists how to make circles of various sizes using compasses (which is not as easy as might seem), then shade in their circles with pastels to achieve a cosmic, planetary effect, which was quite pleasing. I was impressed with the level of attention and determination demonstrated by these children artists.
The students take most of their creations home, but at the end of each semester there is an exhibit and sale of some of their framed pieces. The children receive 80 percent of the proceeds; the remainder helps sustain the program.
Although every child may not have refined drawing abilities—I think of my own youthful portrayals of children standing, palms forward, a big sun in the corner—Joel is convinced that everyone has artistic talent, be it in visual art or some other form. He gives this group of children an opportunity to explore this aspect of themselves. As he says, "If you have never taken an art class, you will never know what you are capable of creating."
And, as with most good education, the maestro receives as much as the students. Joel tells of one lesson in which the children were drawing volcanos. One of the kids wanted to put a monkey in his picture. Ultimately, this youthful lack of inhibition inspired Joel to do a whole series of whimsical renderings of chicken buses and tuk-tuks. His students have helped him reconnect with that small boy watching his father sketching at the table in his childhood home.
Click here for info on the upcoming exhibition by Joel Batz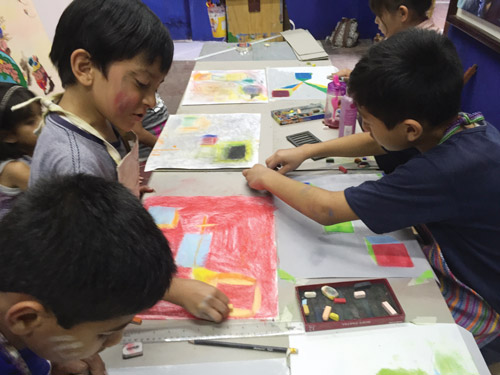 REVUE article by Tom Ross — photos by Joel Batz & Tom Ross