Antigua Green School
Antigua Green School individually tracks each student's progress and adapts its teaching style to them.
Every parent the world over wants the best education for his or her children. And Guatemala is no different. Ensuring the best education they can is most parents' main priority so as to provide their children with the greatest chance of success.
And having a say in their child's education is something many parents have wished they had more control over. Whether it be how the child is taught, because we all know every child learns differently, or how they can get the most out of their curriculum catering to each child's strengths and weaknesses.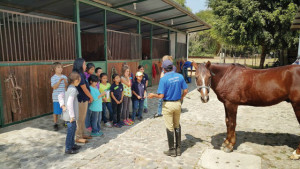 The Antigua Green School is one such institute. Embodying the Montessori method of teaching, this school individually tracks each student's progress and adapts its teaching style to afford each student the greatest success.
Parents love and wholeheartedly agree with the Montessori philosophy: "We respect your child as an individual, their interests, learning pace and style."
If your child loves and is great at math but needs extra help in other areas then the teachers are there to provide that extra help. Plus the smaller class sizes ensure all children get the one-on-one attention from teachers they deserve.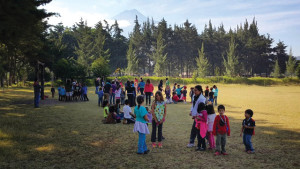 All the while encouraging the advancement of your little math genius by allowing him or her to soar in that favorite subject. This way every individual student learns in a way that is best for him/her.
Parents love this idea, as they know that the older traditional ways of learning may not necessarily meet their child's needs. Encouragement and attentiveness only go so far if children are bored and cannot concentrate sitting for hours looking at a blackboard day dreaming their lessons away.
Yet, if children are interactive then the daydreams dissipate as they are actively engaged enjoying their lessons so concentration is easy. Games, conversation and hands-on activities mean that learning is fun and easy for children, making them want to learn as the time flies by.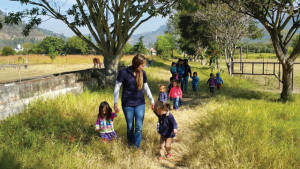 Another big difference is that the parents actually get a say in the courses, extracurricular activities and the development of new programs for their children and community. Art and music are two excellent teaching tools that children love and were introduced upon parents' discussions with the Antigua Green School.
One such interactive parent is Lorena Lemus, who has helped, alongside other parents, to introduce music and art programs. While speaking with Lorena and listening to her glowing review of the Antigua Green School, I asked the simple question, "What is your favorite thing about the school?" Her answer was simple: "The music program we introduced is my favorite and I love that my son has a safe, green place to run around in, which is very important for all children."
Being located inside Finca Azotea in Jocotenango means this Green School uses the natural world to teach, maximizing contact with nature. Going outside and getting their hands dirty means children have fun while learning important life skills such as recycling, composting, waste management and their environmental impacts. All alongside their Montessori classes.
Environmentally friendly courses are being adapted and added all the time to help future generations learn the importance of caring for our planet. The Green School movement is growing quickly worldwide as more and more people understand the benefits of this type of education. Children prefer it and the results speak for themselves as they advance in leaps and bounds.
For more information,
olcenglish.com
facebook.com/GreenSchoolGT/
Tels: +502 4060-0023, +502 5551-3382
Address: Calle del Portal #11, inside Finca La Azotea
REVUE article by Belinda Woodhouse