Anthony Wayne Berger 1944-2010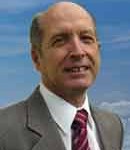 Wayne Berger, a versatile genius who spread Guatemalan voices over a radius of thousands of miles, has died in Jerusalem. He was 66.
Wayne's office always reminded me of the inside of a tackle box. But if you looked closely, you saw more than just books on biblical languages jumbled on shelves with coils of wire and spare parts for transmitters. He could find anything there, without hesitation. The complexities of life in general could no more divert him from his purposes than this apparent office clutter.
That office was on floor two of the TGNA building in Zone 3. This broadcaster on both FM and AM/shortwave frequencies, also called Radio Cultural, has stood since 1950 next to the CETECA Seminary. Wayne, the station's top engineer for decades, built several transmitters in Guatemala.
Thanks to Wayne, millions of people in a dozen countries could awake before dawn to TGNA's trademark jingle, its inspirational messages and classical music programming.
Born in Baltimore (USA) in 1944 and orphaned by 14, Wayne was impatient with the pace of classroom learning. Accordingly, he was largely a self-taught prodigy who mastered a subject by obtaining all available books on a topic and absorbing their content. Electronics was an early target for his intellect, such that by 17 he was licensed to work as a chief engineer at radio stations in Georgia. This position normally required years of university study.
After his conversion to Christianity two years earlier, he was captivated by Greek and Hebrew. Not until he was 23 did he begin to pursue Spanish; ultimately, he would go on to master all three languages.
This happened after Wayne discovered, on his own shortwave receiver, that TGNA's chief engineer had died in an accident. He answered what he believed was a calling and, by 1966, had completed missionary training in Dallas.
He arrived in Guatemala City the following year after a crash-course in Spanish in Costa Rica. In 1971, Wayne married Guatemalan Marievelia Méndez. They would have a son, Anthony Joseph.
Over the years, Wayne became a fixture in Guatemalan broadcasting circles and also in seminaries in Chimaltenango and Guatemala City. He taught theology and Hebrew and tutored worthy but impecunious students. He frequently traveled abroad to troubleshoot for Christian broadcasters with technical problems.
Kind, generous and gifted with good-humored humility, Wayne was also respected as a Sunday-school teacher of high erudition and insight. But his greatest joy was leading pilgrimages to Israel, where he hoped to pass on.
This he did after a brief but happy retirement, culminating a life of immeasurable fruitfulness.
"The Lord granted his wish," says his longtime friend and TGNA associate David Pérez.