AMALIA'S KITCHEN: Lent — Smørrebrød
Lenten season is also an opportunity to explore foods outside the normal realm of traditional choices.
Cooking or eating out during season of Lent does not have to be difficult, it just takes a bit of awareness and creativity.
Every year many Christians observe special diets during 40 days. As I listened to the priest's sermon one recent morning at church, I thought to myself that the Lenten season is also an opportunity to explore foods outside the normal realm of traditional choices.
When I married my husband, I also embraced his and his family's culture and food. For me this was an opportunity to learn new techniques, ingredients and dishes and to have fun with my new family and their friends. I grew fonder of Danish food the more I was exposed to it.
Guatemalan and Latin cuisine are at the core of my cooking, but I also enjoy eating and making a wide variety of foods, which I have been fortunate to try during my worldwide travels. Like many other countries' gastronomy, Danish and Scandinavian cooking is similar in some respects, but it is unique country by country.
I particularly enjoy the art and craft of open-faced Danish sandwiches because they are not only a feast to the eyes but to the senses, too. Contrary to appearance, they are quite easy to make. With just a few easily accessible ingredients, one can create a variety of attractive scrumptious dishes.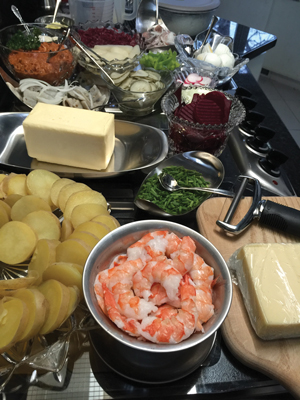 Basically Danish sandwiches come in all shapes and sizes and can be a snack or a whole meal. This past Christmas Day, I created smørrebrod for dinner for my visiting Guatemalan and Danish family in my home in the United States. I have learned the ropes of the Danish kitchen with my husband's mother and sister-in-law and with uncles and friends who are good cooks.
As you explore what to eat during Lent, think outside the box and enjoy foods from other cultures which offer not only interesting presentations but an opportunity to learn something new. The Danish repertoire is big and there are seafood and non-meat sandwiches that can satisfy any hungry palate during Lent and beyond.
Here are a couple of recipes to entice you to explore Scandinavian cooking, especially Danish cuisine.
SMØRREBRØD
Recipes by Chef Amalia Moreno-Damgaard
The base of all open-faced Danish sandwiches is smørrebrod (rye or French bread and butter), which can change depending on the toppings.
SANDWICH
1 slice rye bread
Spread with butter and layer the toppings and garnish as listed.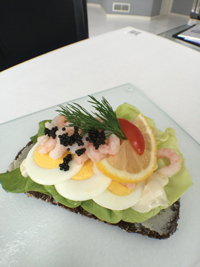 SHRIMP AND EGG
Toppings
1 Bibb lettuce leaf
1 hard-boiled egg, sliced
1-2 tsp. light mayonnaise
1 heaping tablespoon tiny cooked shrimp
(salad shrimp)
Garnish: cocktail tomatoes, caviar and dill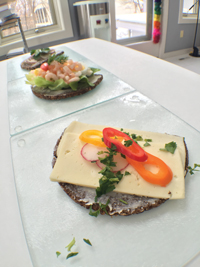 SILD (HERRING)
Toppings
3 pieces of sild (herring) in white wine
3 slices thinly sliced onion
Garnish: dill
HAVARTI CHEESE
Toppings
2 thin slices of Havarti cheese
Garnish: bell pepper julienne, radish slices and parsley.
Amalia Moreno-Damgaard is an award-winning bestselling chef author born and raised in Guatemala City currently living in the Twin Cities. She provides individuals and companies with a taste and understanding of Latin cultures through healthy gourmet cuisine education, consulting, bilingual speaking and writing and fun culinary experiences. Her cookbook "Amalia's Guatemalan Kitchen-Gourmet Cuisine With A Cultural Flair" has won 9 international awards. AmaliaLLC.com
REVUE article