AMALIA'S KITCHEN Desserts with Heart
Sweets are the perfect ending of a great meal, especially if they are near and dear to our hearts.
Although I don't claim to have a very sweet tooth, when I do eat dessert I naturally gravitate to fruit-based tarts or fresh fruit salads, but when a special craving sets in, I often reminisce about the desserts I ate while growing up, those that remind me of my childhood in Guatemala.
For me the simplest desserts are often the best, from a cooking and eating standpoint. One unfussy dessert that is not only economical and super easy to prepare is arroz con leche (rice pudding), popular around the world and especially in Latin America.
Its creamy, hearty texture makes it ideal as a starter for breakfast and mid-morning or afternoon snack. By adjusting the milk content and toppings, it can go from a casual drink to an elegant and even decadent dessert.
When it comes to texture and flavor, Guatemalans — both home cooks and street vendors — tend to do a decent job preparing this rice-and-milk concoction that came via Spain.
However, if we deconstructed the recipe, we would find that its ingredients came from various parts of the world and that what makes the final dish unique is the tender loving care of each maker.
Seasoning is key in every dish, but in desserts sugar, salt and spices often come together to create a symphony of flavors in the palate and in one's senses. The difference between a memorable creation and an ordinary one is simply proper seasoning, the taste of which, depending on what morsel you are having, can elevate your soul to your fondest home-cooking memories.
Making arroz con leche in Guatemala is easy if the right combination of ingredients and flavors that make it truly Guatemalan is there. From a street gourmet to a fine dining table, this dessert has the power to please, satisfy and wow even the most demanding palates.
ARROZ CON LECHE
Rice, Milk and Cinnamon Pudding
Recipe by Chef Amalia Moreno-Damgaard
This arroz con leche is the Guatemalized version of rice pudding that came to Latin America through Spain. It varies by region and country. It is naturally gluten free, and it can be made healthier by substituting whole for skim milk without sacrificing its essence.
You can transform it from a drink into a dessert by using half the milk and adding toppings of choice such as fresh fruit, chocolate sauce, raspberry coulis (sauce) or fruit compotes. You may eat it hot or cold. Here it is presented as an elegant dessert.
Serves 2 people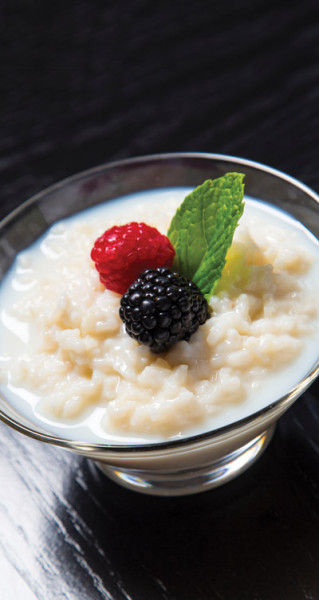 1/3 cup long-grain rice
1 cup water
1/3 stick canela (Ceylon cinnamon)
2 cups skim milk
1/4 teaspoon kosher salt
1 1/2 tablespoons sugar
Garnish – Ground (or whole) cinnamon or berries and mint
Combine the rice, water and canela in a small saucepan and bring to a quick boil. Adjust the heat to low and cook uncovered for 5 minutes.
Add the milk, salt and sugar, and bring to a quick boil again. Keep a close eye on the mixture, as it can quickly boil over.
Adjust the heat to low and continue to cook, stirring occasionally, until the rice is soft (12 to 15 minutes). Taste and adjust seasonings, if needed.
Serve the atol hot in mugs, warm in tall glasses or cold in cups.
Garnish.
Amalia Moreno-Damgaard is an award-winning bestselling chef author born and raised in Guatemala City currently living in the Twin Cities. She provides individuals and companies with a taste and understanding of Latin cultures through healthy gourmet cuisine education, consulting, bilingual speaking and writing and fun culinary experiences. Her cookbook "Amalia's Guatemalan Kitchen-Gourmet Cuisine With A Cultural Flair" has won 9 international awards. AmaliaLLC.com