AMALIA'S KITCHEN: Chirmol without Boundaries
Chirmol is a healthy delicious chunky sauce that can accompany a variety of foods.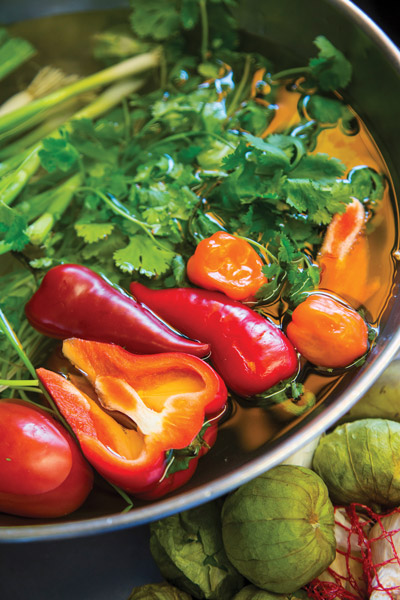 When you are in Guatemala, you are bound to hear the word "chirmol" used in various contexts, be it culinary or cultural. A group of friends can be chirmoleando or gossiping about something or someone. Chirmol can also refer to a mess or a mix-up, and a chirmolero(a) can be someone who likes to stir up trouble.
And chirmol is also a healthy delicious chunky sauce that usually accompanies a variety of foods. Chirmol is to Guatemalans what chimichurri is to Argentineans, the inseparable pal of grilled meats. The sauce morphs from region to family preferences and can contain few to several ingredients depending on purpose. The technique is simple.
Chirmolito is yet another way to call the salsa that denotes familiarity and coziness. Guatemalans do enjoy using ito or ita at the end of words to add a special and precious meaning to things, foods and even people.
I have two favorite chirmolitos, one that is partly cooked, and another one that is fully cooked. The first one I like to dress up chorizo and the latter one, atop over-easy eggs.
In other Latin cultures there are a variety of sauces and salsas that are cousins to the chirmol. Pico de gallo is the Mexican raw equivalent to a chirmol, while a tomatillo salsa can be another one. Chirmol can also be associated with a sofrito, a base for anything from rice dishes and soups to more elaborate meals.
Guatemalans love their sauces and salsas on the side, and they are typically mild. Spicy ingredients often accompany a small tray of toppings that a waiter at a restaurant will bring to a table. This way, patrons can dress their dishes according to taste.
In the last few years, fusion has brought a variety of spicy foreign dishes into the Guatemalan culinary scene, but the traditional fare remains mild.
These great sauces and salsas lend themselves to a variety of purposes and uses, from toppings and appetizers, to easy bases to build a gourmet dish.
The choice is yours!
AMALIA'S FAVORITE CHIRMOL
recipe by Amalia Moreno-Damgaard
Makes about 2½ cups
5 Roma tomatoes, charred, chopped (skins included)
½ cup mint leaves, chopped
¼ cup cilantro leaves, chopped
½ cup onion (red, white or green), chopped
1-2 serrano or jalapeño chile peppers, minced (optional)
1 tbsp fresh lime juice
Salt to taste
Char the tomatoes on the grill until blackened and mushy. Do not peel. Chop well.
Combine with the rest of the ingredients and season.
¡Buen provecho!
Amalia Moreno-Damgaard is an award-winning bestselling chef author born and raised in Guatemala City currently living in the Twin Cities. She provides individuals and companies with a taste and understanding of Latin cultures through healthy gourmet cuisine education, consulting, bilingual speaking and writing and fun culinary experiences. Her cookbook "Amalia's Guatemalan Kitchen-Gourmet Cuisine With A Cultural Flair" has won 9 international awards. AmaliaLLC.com