Allegro to Guatemala: An Expatriate Journey Through the Land of Eternal Spring
Allegro to Guatemala: An Expatriate Journey Through the Land of Eternal Spring
by Mark D. Walker
Most of the more than 6,000 U.S. expatriates who live in Guatemala have a distinct way of appreciating and expressing their love for Guatemala. Several years ago, I met poet Earl Vincent de Berge and his wife, Suzanne, over lunch in Phoenix. discussing fundraising strategies for Seeds for a Future, a non-governmental organization (NGO) they set up in Guatemala. I soon learned that we shared a love and appreciation for Guatemala and the Desert Southwest and also learned that Earl, too, was a writer, in his case, poetry.
Earl is a native of Arizona. He studied at Antioch College (BA) and the University of Arizona (MA). A political scientist, he founded the Behavior Research Center and created the respected Rocky Mountain Poll, serving as its editor for 35 years.
So, I was surprised to learn that he started writing as far back as 1959. This summer, he is publishing A Finger of Land on an Old Man's Hand, an autographical novel laced with poetry and photos about his adventures as a young man in the Sonoran deserts of Baja California, Mexico and Arizona. As a high school senior, Earl came across one of the great Chinese poets, Li Po, noted for his elegant romantic verse, which he felt compelled to express to some of the various women in his life. Earl wrote about nature, the environment, cities, and social issues, and his travels through Central America, the Sonoran Desert, and the Andes fueled his imagination. "Everything I experience has potential for a poem—even the increasingly dreadful business of politics."
In Allegro to Life, Earl's poems are divided into "Songs from my Life," "Poems from Guatemala," and "Desert Songs." From the Desert Southwest, the author transports us to the unique, ever moist environs of the rainforest in Guatemala with "Chipi-Chipi:"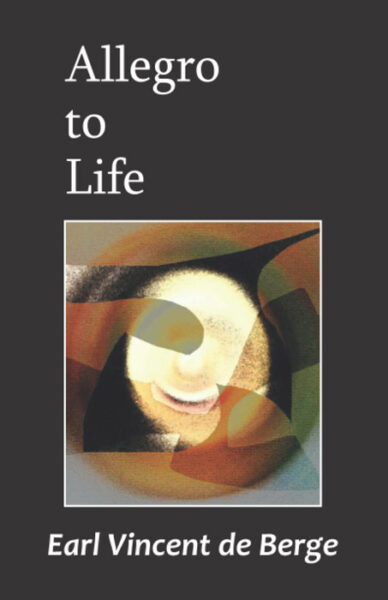 CHIPI-CHIPI
It is raining/in the way of mist,/just heavy enough/to cling to plants/…too light to dimple the lake…
Chipi-Chipi is the name/Tzutujil speakers/ give to mist rain/ that neither/ starts nor stops/ yet accumulates/like dew/ to drip gently from/ palm fronds. /One senses eternity
The author and his wife split their time between Guatemala and Arizona and have owned a home on Lake Atitlan, but eventually were drawn to Antigua, so I wasn't surprised to find this enchanting tale of life in the Central Plaza there:
BLIND IN ANTIGUA
Girdled by ancient Spanish buildings, / their silent arches like eyes gazing with/ stern conqueror authority into Antigua's / graceful central park where modern folks/ now stroll, dally, and relax beneath gnarled jacaranda trees in full lavender flower…
In slow waltz, the calm mix of humanity stirs/ in social mingling, a seamless stream that eddies, / and pauses on benches where lovers giggle/ and women chat in clusters, their hands waving/ "oh really!" as they rock back laughing in/ the glow of fresh neighborhood chin-wagging…
A man sits with sad slumped shoulders / one foot raised on the shoeshine boy's box/ as he reads of war and butchery in the world. / Worried only about future family meals.
A poem Earl wrote on the arm-in-arm Sunday sauntering of "muchacha"s brought back fond memories of my participation in this historic tradition.
THE CENTRAL PARK RAINBOW
Antigua's central plaza is a rainbow of so many curious people that I am guilty of surreptitiously studying many as unobtrusively as an older gent can.
The rainbow faces are electric:
… friendly, with gender politics low keyed.
… bored, seeking a conversation.
… amused and sexily attired.
… insistent aloofness.
… contemptuous when noticed.
… strutters on the hunt.
… tourists behind cameras.
… peanut peddlers.
… jewelry and scarf sellers.
… evangelicals preaching damnation.
… children selling gum and cigarettes.
… jugglers and guitarists.
… children with animated minion dolls.
… toddlers with soap-bubble squirt guns.
… small-bag coffee merchants.
… shy Maya families from the countryside.
… cops running off drunks.
… 20s glued to ear-buds.
… old gringos jawing tall tales.
… oblivious lovers.
… and slack faced day dreamers
… they all seem so relaxed.
Few will forget the Easter pageantry of "Semana Santa" (Holy Week) in Antigua, expressed so well in the following poem:
GOOD FRIDAY ANTIGUA
I imagine myself hefting the huge anda –
leaning into the swirl of blue incense,
my hand, white gloved at my cheek
lifting in lock step with eighty men
the weight of Jesus bearing the cross,
my mind on this day of His passion
—  my day of repentance and devotion.
Approaching the central cathedral,
walking over alfombras of flowered devotion,
cucuruchos guard our path against
gawking tourists, clicking cameras,
patronizing grins, uncovered heads
and I love New York T-shirts.
Incense cleanses the air,
blurs my view of tourist faces
leaning into the veil of incense
as if watching us gives them
understanding of faith.
The crowd fades to silhouettes
—  then into nothing
as the rhythm and sway of we eighty
pulls me back into Jesus and his love.
Earl then deftly takes us from the enchanting world of Antigua to Guatemala's troubled, violent past during the civil war in the 1980s.
CESSPOOL BRAIN
Imagine, /if you can, the cesspool brain/ of the Guatemalan army colonel/ who ordered the murder/ of hundreds of indigenous/ civilians and their burial/ in his army's latrine pits.
Imagine again/ if you can, / him walking away. /Whistling of a job well done. / Time will fade victims' names/ and the pain of personal loss/ but the Maya have not forgotten the / meaning of their agony. / Genocide is the mother of the next war.
Earl uses the plain language "my Texas mother can understand." He uses metaphors and rhyming sparingly. No matter where the poem takes place, it is underscored with a clear idea, image, and emotion, which paints a picture that will set the reader adrift on their journey.
One astute reader says: His economy of words–reminiscent of Asian and Native American poetry–thrusts the reader directly into the subject, whether it be the blessing of rain on a thirsty desert cactus, or the grief of a soul destroyed by Guatemala's Civil War. Earl's uncluttered directness embodies what Thomas Merton, author of the spiritual classic The Seven Story Mountain said of his artist father:
"His vision was religious and clean, and therefore his paintings were without decoration or superfluous comment since a religious man respects the power of God's creation to bear witness for itself."
Suzanne de Berge is the driving force and president of Seeds for a Future. A graduate of Antioch College, Suzanne combined her liberal arts education with interests in science, native cultures, and the natural world.
In 2004, Suzanne and Earl volunteered at a Pre-Classic Mayan archaeology site beneath the village of Chocolá, on the south coast of Guatemala. Working side-by-side with people from the modern-day town kindled their interest in helping their new friends have healthier and more prosperous lives.
Joined by other archaeology volunteers, in 2007, they formed Seeds for a Future, a U.S. non-profit. "Seeds" provides affordable and sustainable training to impoverished rural women in and around Chocolá to improve family access to food and nutrition. According to Suzanne, "We knew that we wanted a self-help program for families. They could build their futures and create success using the skills and confidence gained through knowledge and experience." As Seeds approaches the 15-year mark, it is supported by contributions from individuals across the U.S. and beyond and is drawing attention from health and nutrition organizations in Central America. I found the food security component of the work timely since 47% of Guatemalan children are malnourished, with malnutrition increasing since 2015, according to the UN's World Food Program. If that's not bad enough, "stunting" among Guatemalan children is at one of the highest rates in the world.
A Vision is not achieved alone; there's always a team.
I also appreciated that the program is staffed by local Guatemalans who are a part of the community. Their training and experience as extensionist agents make them a vital community resource, coaching and mentoring families to become self-reliant and prosperous. Each year, a core of 12-20 families completes a 12-month training and mentoring program in each village. Many of these families share their new skills with family, friends, and neighbors, creating real and lasting change through knowledge and self-reliance in communities where many children face chronic malnutrition and where families once had limited options. The de Berges are proud of the Seeds for a Future field team and their success in helping families build better lives.
For example, Clelia Ixquiatap, the Project Coordinator and a Senior Extensionist, received extensive nutrition training as part of the INCAP/Nestle project, which evaluated the Seeds for a Future program's impact on local nutrition and health. Clelia was vital to transferring nutrition information to the study's participants and continues in that role with today's participating families.
The ethnic diversity of the communities they served also fascinated the de Berges, as it did me. Most of the area's population is Maya Kaqchikel. However, in the 1880s German owners of Finca Chocolá, a cattle and coffee plantation, brought in workers from Quiché, resulting in an "island" of K'iche' speakers in a sea of Kaqchikel. So, in a few thousand years, you go from ancient Maya/Olmec to Maya Kaqchikel, and thanks to the Germans, to Maya Q'iche—all in the same community.
Enchanted by the gentle people, their culture, and a spectacular natural environment, Earl and Suzanne created a program that helps rural Guatemala families build better lives for themselves and their children. Earl's poetry allowed him to express his insights on Guatemala in a most lyrical manner, while Suzanne expressed herself through her community-based programs.
As Earl and Suzanne reach their later years, they focus more on defining their legacy. This poem reflects how Earl puts their life's work into perspective:
ALL JOYOUS FRIENDS
All joyous friends we know in life
will fade, for who can outpace
the extinction mortals must face?
Death is a sequel to elude in pursuit
of selfless works in life that we cherish
until the knot of life unravels.
How can we help protect God's exposition that is life in nature?
How can we make ourselves one with God?
Selfless charity without command are
the joyous deeds not undone by death.
When we become one, our faults
are nothing against the virtue of true
charity in protecting nature.
You can find out more about the de Berges' work at: www.seedsforafuture.org or purchase his book of poems at: cyberwit.net
  About the author Mark D. Walker
(MillionMileWalker.com) Mark Walker was a Peace Corps Volunteer in Guatemala, 1971-1973, working on fertilizer experiments with small farmers in the Highlands.
Over the next 40 years, he managed or raised funds for many international groups, including Food for the Hungry, Make-A-Wish International, and as CEO of Hagar USA. He wrote about those experiences in Different Latitudes: My Life in the Peace Corps and Beyond. He is a contributing writer for Literary Traveler and Revue Magazine: Uncovering the Art of Francisco Goldman, Tschiffely's Epic Equestrian Ride; The Future of the Peace Corps in Guatemala; Maya Gods & Monsters; The Making of the Kingdom of Mescal; Luis Argueta – Telling the stories of Guatemalan Immigrants; Luis Argueta: Guatemalan Filmmaker, Recipient of a Global Citizen Award; Traveling in Tandem with a Chapina; Victor Montejo's Dream of a Secure Maya Community; and Traveling Through the Land of the Eternal Spring: A Literary Journey. The Solas competition awarded him the Bronze for "Best Travel Writing," His new book, My Saddest Pleasures: 50 Years on the Road, will be available in early June.  He's producing a documentary set in Guatemala, Trouble in the Highlands. His wife and three children were born in Guatemala.
Go to MillionMileWalker.com, write the author at Mark@MillionMileWalker.com
Or purchase his new book at. Purchase here