Africa – The other side of Latin Cuisine?
The similarity between the cuisine of eastern Africa to that of Latin America.
Traveling is perhaps one of the best ways to rediscover ourselves and our own cultures. During a recent trip to Tanzania and Kenya, I expected fantastic wildlife and outstanding scenery, but an unexpected surprise was to experience the similarity between the cuisine of eastern Africa to that of Latin America.
One of the highlights of this trip to see the overwhelming numbers of wildlife in the many parks and conservation reserves. Given the opportunity to observe families of lions, elephants, zebras, cheetahs, giraffes, zebras, wildebeests and many more mammals and birds in their natural habitat and ecosystem was only part of the equation. The Ngorongoro Crater and Serengeti and Mount Kilimanjaro park are renowned places to visit for a reason — they are amazing and capable to inspire and challenge and inspire you almost beyond belief.
There are hundreds of native tribes in Africa and some groups are larger and more prevalent than others. This is the case of the Maasai tribe with whom I had many opportunities to interact. Their textiles and accessories are eye-catching. Besides being nomads, these remarkable people are particularly resourceful. I observed many awesome behaviors, such as starting a fire in a matter of seconds with two wooden sticks and a pile of dried rubbish from elephant stool. The traditions and diet of the Maasai are unique and totally different from the rest of the Tanzanian and Kenyan population. Should I say quite exotic and may seem unusual to us foreigners. But they probably would feel the same about our customs.
One of my favorite adventures was visiting a market in Arusha, Tanzania, and another two in Nairobi, Kenya. As one accustomed to some of the best vegetable markets in the world (Guatemala), I was pleasantly surprised to see the bounty of fresh produce from gorgeous greens and passion fruit, pineapples, and papayas, to nearly seventeen types of bananas. I absolutely loved the red-skinned bananas, they reminded me of guineo mojoncho from Quezaltepeque in Chiquimula.
I was fortunate to have the opportunity to cook and share culinary secrets with two chefs, one from Kenya and the other one from Sri Lanka. Getting closer to the cuisine after exploring the markets convinced me that African and Latin cuisine has much in common. We share the same staples, corn and beans and other legumes. We are both rich in tubers (root vegetables), and fresh ingredients. Our food can be vegetarian. They integrate pork, chicken, and some beef, but also wild game. Latin cuisine has wild game and other exotic proteins in its cuisine too. But what I found the most amazing is the simplicity and freshness of the many colorful and delicious dishes.
I also visited coffee plantations and learned the basic ways of local farmers. With my point of reference from my own country and other coffee plantations I have visited in other areas of the world, I thought I had seen it all. This is the beauty of other cultures. You just don't know what you don't know. After learning about planting through harvest time, we removed the outer skin of the green coffee beans with a tall wooden mortar and pestle. Then we roasted the beans in a clay pot (another Latin similarity) under a flame produced by methane gas created naturally from their livestock. To finish, we ground the coffee with another specialized mortar and pestle in the rhythm of African tunes. Then we had a cafecito (a term of endearment in Latin America for having coffee while having a cozy visit with a friend) with our new Tanzanian friends.
As I reminisce about this trip, quite different yet so close to my own culture in culinary ways, I feel that I found a new friend in African cuisine. Since I returned I have been exploring and cooking dishes beyond what I learned with the two hospitable chefs. Although the cuisine does have touches of Indian cuisine because there's a significant demographic of Indians living there, it was quite easy for me to separate the two through the understanding of the native peoples, their culture, and what naturally grows there.
I now feel closer to the Garifuna people living on the Caribbean coast of Central America and some parts of the United States. I now understand better the connection to their beautiful motherland.
This month I'm sharing three easy recipes that I truly love. This is my special rendition to Tanzanian and Kenyan cuisine.
¡Buen provecho!
MALAGASY RAGOUT
–Tanzanian chicken and beef stew with vegetables
Recipe by Chef Amalia Moreno-Damgaard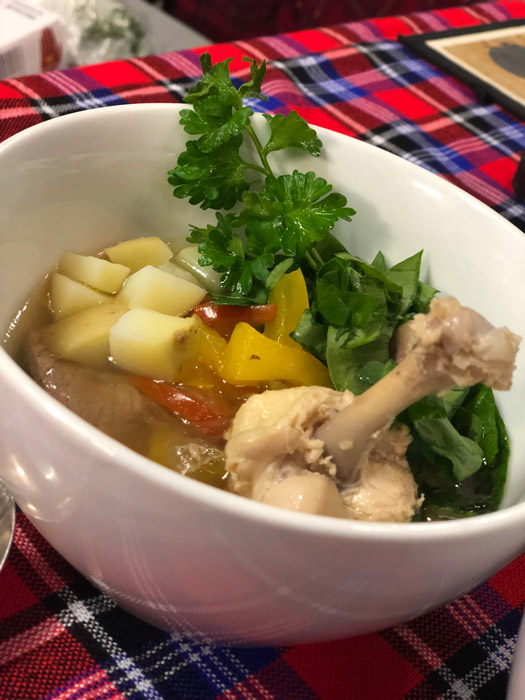 Serves 4
1-quart chicken stock
1 cup diced beef loin
1 cup diced chicken breast
1 cup pork loin (optional)
¾ tsp. ginger paste
¾ tsp. garlic paste
½ cup julienned seeded tomatoes
½ cup julienned white onion
½ cup julienned green and yellow bell peppers
½ cup cooked cubed potatoes
Cooked Frenched chicken lollipops for garnish Shredded spinach (or substitute for kale, collards, or Swiss chard)
Put all the meats in a pot with the stock and bring to a quick boil and skim solids that float to the surface, if needed. Add the ginger and garlic. Stir well and cook for 2 minutes.
Add the rest of the vegetables, except the spinach, and cook until vegetables are cooked al dente, 3 minutes. Add the spinach and serve immediately.
——
KACHUMBARI
–Kenyan salsa –with variations Tomato onion salad
Recipe by Chef Amalia Moreno-Damgaard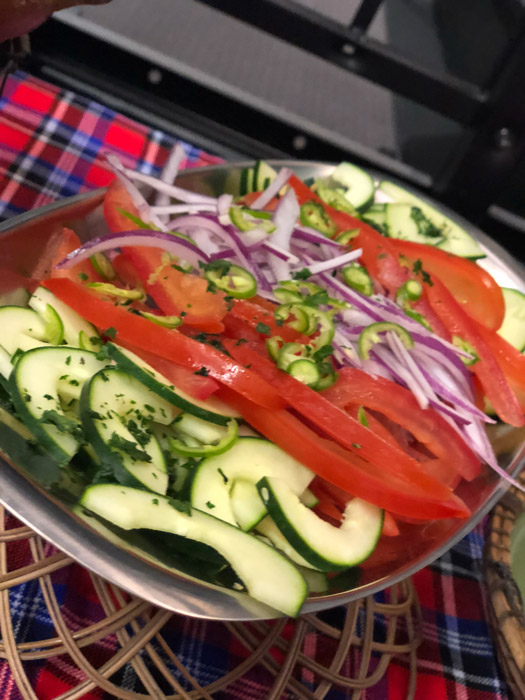 Serves 4
1 cup julienned red onion soaked in enough cold water to cover and a tsp of salt for about 5-7 min.
1 cup julienned seeded tomatoes
¾ – 1 cup chopped dhania (coriander leaves)
1 hot chile pepper (optional)
1 cup julienned green bell peppers (optional)
½ cup avocado cubes
½ cup seeded cucumber cubes
Salt
Lemon juice to taste (optional)
Combine all ingredients in a bowl, season, and serve.
——
WALI WA NAZI
–Tanzanian and Kenyan Coconut Rice
Recipe by Chef Amalia Moreno-Damgaard
Serves 4
3 cups water
5 tbsp canola or olive oil
2 cups rice soaked in cold water for 10 min.
1 cup coconut milk
½ tsp salt
Bring the water to a quick boil. Add the oil, then the rice and stir quickly.
Add the coconut milk and the salt. Stir quickly. Cover and simmer covered until rice has absorbed all the liquid, about 10-15 minutes.
REVUE magazine article by Chef Amalia Moreno-Damgaard
Amalia Moreno-Damgaard is an award-winning bestselling chef author born and raised in Guatemala City currently living in the Twin Cities. She provides individuals and companies with a taste and understanding of Latin cultures through healthy gourmet cuisine education, consulting, bilingual speaking and writing and fun culinary experiences.

Her cookbook "Amalia's Guatemalan Kitchen-Gourmet Cuisine With A Cultural Flair" has won 9 international awards. AmaliaLLC.com