A Weakness for Chocolate
I don't have a sweet tooth per se, but I must admit that I have a weakness for chocolate because it's not only delicious, it's nutritious, too. And, it just may be the perfect treat for Valentine's.
Chocolate has boundless possibilities in the kitchen, and recently I developed something new and unique for a special presentation during Valentine's week in Twin Cities, MN.
Using chocolate as my star ingredient, I decided to design a menu geared for entertaining at home or anywhere, for a small or a large event. The recipes are easy, delicious, and have the wow effect of seducing sweet palates.
When it comes to chocolate, there are several choices, and not all of them are conducive to all recipes. So, when deciding what to make with chocolate the next step is to choose what type to use. This is important because it will affect the overall outcome of the dish as chocolate can be rustic or delicate. It may need tempering, or it can break during a preparation.
As a Guatemalan, my loyalty to my home country's chocolate comes first because it's one of the closest to natural chocolates you can use in a given recipe. But this chocolate is not the velvety type that we consume in chocolate bars, it is one that must be used according to its natural qualities.
Toasted fresh cacao (cocoa) beans with canela (Ceylon cinnamon) and sugar is the traditional preparation in artisan Guatemalan chocolate. Depending on the maker, there may be other flavorings added such as almond, vanilla, coffee, salt, dried chile, and more. This chocolate is perfect for making robust drinks and for sweet or savory sauces and crepes.
Chocolate for melting contains other ingredients such as oils, cocoa powder, whey, soy lecithin, milk, and other artificial ingredients in addition to sugar and salt. While it is not optimal for drinking, this chocolate is good for making fondue, dipped fresh or dried fruit or candy, and other specialty sweet treats.
Cocoa is a fine powder made with chocolate and sugar without the cocoa butter. In the United States, this is the go-to ingredient for hot chocolate made with water or milk. Cocoa powder without sugar is used widely in baking cakes, brownies, and more. Without additives and artisan style, this can be a pure form of chocolate as well.
Syrup of chocolate contains cocoa and ingredients such as alkali, sugar, water, salt, citric acid, and more. Of all the types above, this contains additives both natural and artificial.
Chocolate, especially dark, according to medical experts, can be very good for your heart when it's the closest to its natural state as it is rich in minerals, vitamins, and antioxidants. Although it also contains fat (oleic acid), the same found in olive oil, plus equal amounts of two other acids, stearic and palmitic (saturated fats). High-fat foods of any kind though are three times higher in calories than regular foods, and this is good to know to exercise caution for weight control.
Dark Chocolate Martinis and Chocolate Quesillo are two special sweet delights to make your Valentine's special. These recipes can be easily made with one or a combination of the chocolate preparations from above. The key is using the best kind for each recipe. Below are the recipes for your enjoyment.
Happy Valentine's Day!
¡Feliz Día del Cariño!
Dark Chocolate Martini
Recipe by Chef Amalia Moreno-Damgaard
(AmaliaLLC.com)
I enjoy fruity martinis from time to time. During a recent cruise vacation, I saw a woman having a chocolate martini every night at the bar during cocktail hour. I figured they must be really good, so I decided to come up with my own recipe in celebration of the day of love and friendship.
Serves one
Dark chocolate syrup (Hershey's)
Dark chocolate cocoa
1 strawberry
2 oz dark chocolate milk (recipe below)
1 oz vodka
½ oz Kahlua
½ cup ice
Chocolate milk: in a small saucepan, combine ½ cup of evaporated milk and add 2-3 tbsp of Guatemalan dark chocolate and cook at low heat. Cook and whisk to dissolve the chocolate, about 2-3 minutes. Let cool.
Combine all ingredients in a cocktail shaker and shake vigorously to chill.
Strain into decorated and garnished martini glass. Serve.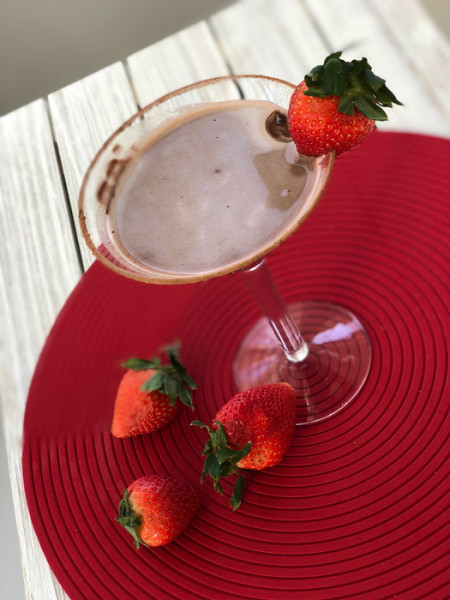 Chocolate Quesillo
Recipe by Chef Amalia Moreno-Damgaard
(AmaliaLLC.com)
This recipe is inspired by a Venezuelan dessert which I made with a dear friend and comadre Judy from Caracas. It has all the traits of flan, but the consistency is firmer, hence the name quesillo. I have modified the recipe to suit my menu needs and to add a festive and gourmet touch. The traditional recipe contains fewer ingredients.
Serves 4-6
½ cup sugar + ¼ cup water
4 large eggs
1 (14 oz.) can condensed milk
1 (12 oz.) can evaporated milk
4 large eggs
1 tsp vanilla extract
1 tsp almond extract
8 tbsp. dark cocoa powder without sugar
1/8 tsp Kosher salt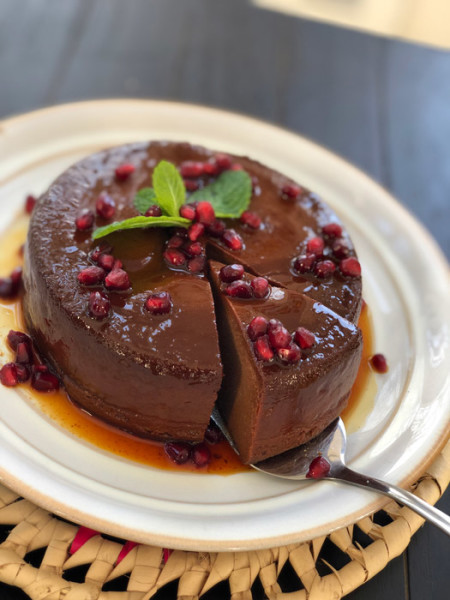 Garnishes: Cocoa powder, mint, raspberries or pomegranate seeds.
Preheat oven to 325°F
Make the caramel base: combine the water and sugar in a mold and heat slowly to form a dark brown syrupy caramel, about 5 minutes. Swirl the caramel to coat the bottom and sides of the pan. Set aside.
Chocolate milk: combine 12 oz. can evaporated milk, 8 tbsp dark cocoa powder without sugar and whisk to dissolve.
Combine the eggs, two milks and extracts, cocoa powder, and salt in a blender and blend just to combine ingredients about 1 minute.
Pour mixture in the mold, cover with foil, and bake in a Bain Marie for about 45 minutes, or until the mixture is firm.
Alternatively, this can be done on the stove top too at low heat for the same amount of time. Just make sure both containers are covered with foil (baking mold and Bain Marie mold).
Allow the quesillo to cool down and invert it on an attractive plate. Garnish.
REVUE magazine article by Chef Amalia Moreno-Damgaard
Amalia Moreno-Damgaard is an award-winning bestselling chef author born and raised in Guatemala City currently living in the Twin Cities. She provides individuals and companies with a taste and understanding of Latin cultures through healthy gourmet cuisine education, consulting, bilingual speaking and writing and fun culinary experiences.

Her cookbook "Amalia's Guatemalan Kitchen-Gourmet Cuisine With A Cultural Flair" has won 9 international awards. AmaliaLLC.com