AMALIA'S KITCHEN – Guatemalan Cuisine
A TRIBUTE TO CALDO DE RES
text & photos by chef and author Amalia Moreno-Damgaard. (AmaliaLLC.com)
Caldo de res (beef and vegetable soup) is possibly the most popular soup in the region surrounding Guatemala City. While delicious and nutritious, this soup has some history behind it and a lot in common with the soups of other countries.
Soup in Guatemala is sopa and caldo, broth. Caldo de res is also known as cocido, meaning cooked. Oftentimes the latter terms are used interchangeably, but caldo de res is always referred to as caldo, not soup. Puchero (aka cocido) is a peasant soup from Andalusia which came from the Spanish during colonial times to Latin America and the Philippines. It is known under different names in the various countries where it is popular.
In Guatemala caldo de res is a Saturday special, as it can be made any day of the week, but Guatemalans look forward to preparing it for Saturday lunch, as it can be quite heavy by the time you get to the last part of it. Caldo de res is a one-dish meal containing many food groups. It is an aromatic and attractive dish that looks elaborate and delicious but is quite easy to make.
Keep in mind that when you are invited to someone's home to indulge in this delight, there's a protocol that goes with it. After the caldo is ready to eat, the vegetable chunks (corn, yuca, potatoes, carrots, guisquil or squash, cabbage and others), the meat pieces and soup bones are separated in the kitchen before they are served at the table. By the time they reach you, you will likely have the broth in a bowl with a plate underneath so that when you finish it you can progress to the vegetables and the rest of the sides, such as salpicon, which is the chopped meat from the broth with onion, lime, mint and radish. Another side is Guatemalan rice along with freshly made corn tortillas, avocado slices, lime and the spicy sauce of preference.
By the way, the recipe for caldo de res can be adapted to other proteins, such as chicken or pork, for a twist in flavors. Basically, you follow the same steps, except you substitute the meats and add the vegetables of your choice, minding that they should be of firm texture or they will become mushy and fall apart during simmering time, which will be fine if a thicker broth is desired. In any event, it will be scrumptious too.
My simplified version and healthy technique for caldo de res produces a delicious meal in a shorter amount of time than the traditional recipe. It can be made in steps while peeling and cutting all the vegetables the day before and combining these with the rest of the ingredients the day of preparation. And leftovers will make a lovely picadillo or hash!
Buen provecho!
RECIPE  (serves 4 to 6 people)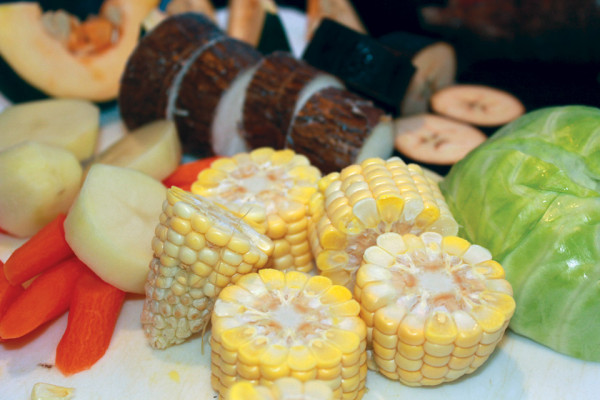 CALDO DE RES
Aromatic Beef and Vegetable Soup
1/3 cup roughly chopped shallots
or onion
1/3 cup roughly chopped leek
1/3 cup roughly chopped celery
1 teaspoon roughly chopped garlic
1/3 cup roughly chopped green
bell pepper
2 bird's eye (Thai) chili, stems re-
moved
1/3 cup roughly chopped Roma
tomato
1 1/2 tablespoons roughly
chopped cilantro stems
1 1/2 tablespoons roughly
chopped parsley stems
1 tablespoon canola oil
1 fresh bay leaf
2 teaspoons Maggi sauce
1/4 teaspoon kosher salt
Freshly ground black pepper
3 cups fat-free, low-sodium beef
stock
1 carrot, peeled, sliced on the di-
agonal into pieces 1/2 inch thick
1/2 ripe plantain, scrubbed, un
peeled, sliced into pieces 1/2 inch
1 ear of corn, sliced into pieces 1/2
inch thick
1/2 acorn squash, scrubbed,
peeled, cut into 2-inch cubes
1 small russet potato, peeled,
sliced into pieces 1/2 inch thick
1 very small yuca, peeled, sliced
into 4 to 5 pieces 1 inch thick
1/4 cabbage cut into 2-inch
chunks
1 pound sirloin steak, fat removed,
sliced thinly and cut into
2-inch pieces
2 teaspoons freshly squeezed lime
juice
Chopped cilantro
Avocado slices
Purée the first 9 ingredients in a blender or food processor.
Add the oil to a hot, medium-size, heavy pot. Add the purée and bay leaf and fry until aromatic (about 2 minutes).
Add the Maggi sauce and cook 1 minute. Season with salt and pepper.
Add the stock to the purée, stir well, and cook until very hot. Gradually add the vegetables in the order listed. Cook each vegetable for 2 to 3 minutes or until al dente before adding the next one.
Add the beef and cook for 3 to 5 minutes. Transfer the soup to a serving bowl, season with the lime juice, and garnish it with chopped cilantro and avocado slices.
Amalia's notes:
In the U.S., many Latin stores carry sliced, bagged, mixed vegetables for making beef soup. Maggi sauce is available at most Latino stores and in the ethnic section of many grocery stores in the United States. Traditionally the beef for this soup comes from tougher, fattier cuts of meat that take longer to cook. Sirloin steak is a tenderer and leaner option. It cooks much faster and is healthier, too.