AMALIA'S KITCHEN – Guatemalan Cuisine
text & photos by chef and author Amalia Moreno-Damgaard. (AmaliaLLC.com)
The Joy of Fiambre
Many Latin countries celebrate the Day of the Dead — and in Guatemala, it is taken to the next level.
Friends and families in Guatemala come together every year to prepare and eat fiambre on Nov. 1, All Saints Day (Day of the Dead). Fiambre is an elaborate dish with anywhere between 30 and over 50 ingredients, depending on the maker.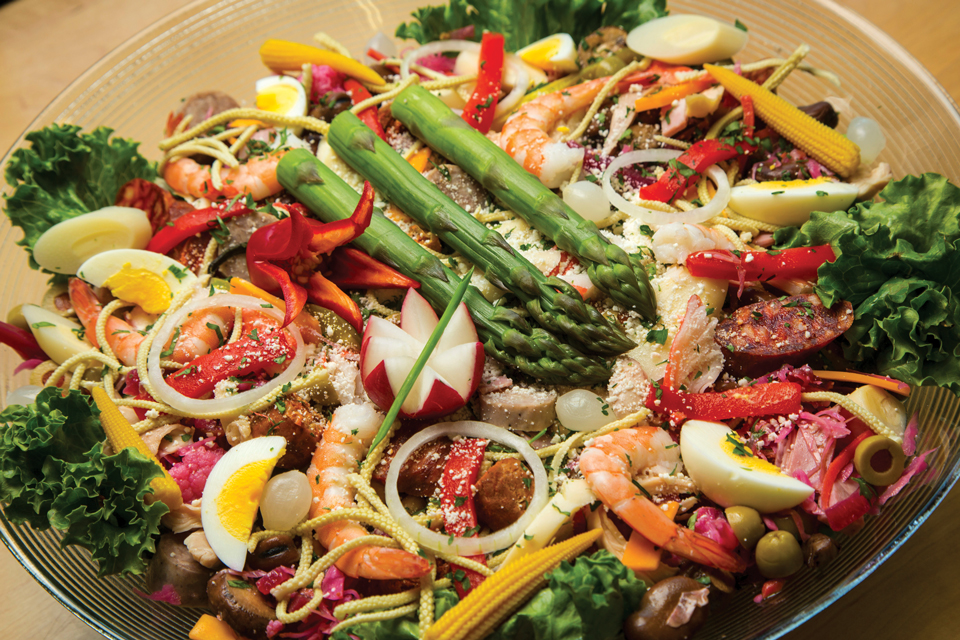 Preparation begins weeks before the cooking day, and often entire families take part. Guatemalans eat this heavy and substantial one-dish cold meal for their holiday lunch and after visiting and decorating the tombs of their loved ones. Some families take fiambre and other foods along with drinks, and even live music, to the cemetery and celebrate until the wee hours of the morning.
The hand-made, stained-glass-like, giant colored paper kites from Sumpango, near La Antigua Guatemala, a link to the spirits, are also a tradition of the season.
Guatemala is home to several versions of fiambre. The dish can be predominantly white, green or red, and it can be mildly sweet or savory depending on the color of ingredients, flavorings and condiments. What really is key in fiambre-making is the caldillo (vinaigrette), and the accurate orchestration of spices, herbs and seasonings, as well as using the right amount of broths and resulting juices from cooking vegetables and proteins, and jarred and canned ingredients, as this can make or break the creation.
Each family has developed a preferred style, and versions vary from region to region in the country, but all share some of the same ingredients, and all are beautiful creations.
Fiambre is definitely a gastronomical cultural experience — a hybrid dish born in Guatemala during colonial times, quite possibly in response to pagan and imposed Spanish and Christian traditions, and as such, it also is a delicious vehicle for connecting with the departed and living. The closest dish to fiambre is the Italian antipasto — but fiambre contains many more ingredients (including a wider variety of marinated vegetables and proteins) and is eaten only as an entrée around lunch time on Nov. 1.
No other dish like fiambre exists elsewhere in Latin America, which is puzzling because many of its ingredients have ties to Spain and France. In Spain fiambre is the term used for cold cuts (and likely where the dish name comes from), and the French word charcuterie is the term used to refer to foods such as hams, sausages and cured meats. These ingredients play a big role in Guatemalan fiambre. Bizarrely speaking, Spaniards use the term fiambre as slang for dead body, too.
Fiambre makers usually get fresh ingredients at the larger mercados abiertos (open-air markets), cold cuts and cheeses at specialty shops, and jarred and canned items at the supermarket. Fiambre is not difficult to make; it just takes planning and plenty of helping hands, and proper seasoning.
When Guatemalans make fiambre, they always make lots of it—for themselves, to share with friends and relatives, and even to sell. Good Guatemalan cooks become well known within their friends' social circles and develop followers, especially during the holidays.
I've had opportunities to make fiambre with different groups of people, and I've found it interesting to see the different approaches people use. During one of my visits to Guatemala close to All Saints Day, I had a chance to make fiambre with my cousins and aunts. We all gathered in the kitchen, and everyone had a task, a cutting board and a knife. On another visit, I observed fiambre-making at a close friend's home and tasted a sweet fiambre with fewer ingredients.
On a subsequent visit, I made fiambre with my sister and a group of her girlfriends. We cooked almost everything from scratch, and we had more than 60 ingredients (including cured tongue and pickled pig's feet) by the time we started assembling the fiambre. As we were dicing, slicing, chopping and reminiscing about our childhoods, we had the time of our lives. This is what fiambre is all about in Guatemala—paying respects to the dead, sharing good memories, and spending quality time with family and close friends eating a meal worthy of a king!
---
FIAMBRE ROJO
(Red Fiambre)
Marinated Vegetables, Meats, Cold Cuts, Seafood and Cheeses (serves 6 to 8)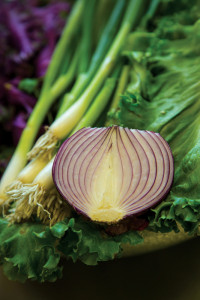 Verduras (Vegetables)
2 1/2 cups shredded cabbage
2 cups julienned green beans
2 cups quartered cauliflower florets
2 cups julienned beets
2 cups julienned carrots
8 asparagus spears
2 ounces (1/4 cup) baby peas
Caldillo (Vinaigrette)
1/4 cup Guatemalan Sharp brand vinegar, champagne vinegar or white wine vinegar
3/4 cup fat-free, low-sodium chicken stock
1/2 cup water from cooked vegetables
1 tablespoon Spanish capers
1/2 cup olive oil or to taste
1/2 tablespoon grated fresh ginger
1 tablespoon minced garlic cloves
3/4 teaspoon mustard seed
3/4 teaspoon black peppercorns
2 bay leaves
3/4 teaspoon thyme
1/2 teaspoon crumbled oregano
1 1/2 to 2 teaspoons sugar
2 teaspoons salt
1 cup finely chopped flat-leaf parsley leaves
1 cup thinly sliced red onion
Enlatados/Botes (Canned/Jarred Ingredients)
1/4 cup thinly sliced palmito (hearts of palm)
8 to 10 pickled baby onions
1 ounce (1/8 to 1/4 cup) thinly sliced baby pickles
10 Spanish olives stuffed with pimentos, sliced
1 tablespoon Spanish capers
1 ounce (1/8 to 1/4 cup) jarred roasted red bell pepper strips
4 pacaya flowers in brine
Pollo, Mariscos y Carnes Frías (Chicken, Seafood and Cold Cuts)
1/2 cup shredded store-bought
rotisserie chicken
1/2 cup ham strips
1/2 cup thinly sliced Spanish chorizo
1/2 cup Serrano ham strips
1/2 cup cooked Latino chorizo slices
1/2 cup cooked shrimp, tuna or
sardines (or other proteins)
Proteínas Vegetales (Vegetable Proteins)
1 ounce (1/8 to 1/4 cup) fava
beans (optional)
1 ounce (1/8 to 1/4 cup) garbanzo
beans (optional)
Quesos (Cheeses)
1 ounce (1/8 to 1/4 cup) cubed
queso fresco
1 ounce (1/8 to 1/4 cup) American
or mild cheddar cheese cut into strips
Adorno (Garnish)
Butter lettuce
2-ounce jar baby corn
2 hard-boiled eggs, cut in wedges
3 radishes, cut into flowers
1 ounce (1/8 to 1/4 cup) thinly
sliced yellow onion
1 ounce (1/8 to 1/4 cup) sliced
sautéed mushrooms
2 ounces (1/8 to 1/4 cup)
crumbled dried Cotija cheese
Chamborote chili (or manzano chili, or cut a Fresno chili into a flower)
Day 1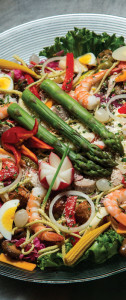 Cook all the vegetables (except the beets) in 4 cups of salted boiling water. Cook them al dente one at a time in the same water, in the order listed, and reserve 1/2 cup of the water. Cook the beets separately, submerged in water, for 40 minutes. Peel the beets under cold running water, then julienne them. Combine all the vegetables except the asparagus and let them cool. Set the asparagus aside for use as a garnish.
Combine all the caldillo (vinaigrette) ingredients (except the chicken stock) in a blender and process until very creamy. Add the chicken stock and process again to combine.
The caldillo will have a strong taste. This is necessary to marinate all the cooked vegetables.
In a large nonreactive bowl, combine all the cooked vegetables with the caldillo and the parsley and red onion. Let the vegetables marinate overnight. For even marinating, mix vegetables gently with a soft spatula occasionally. Taste the next day and adjust seasonings, if needed.
Day 2
Open all the canned and jarred ingredients. Combine a little of each of the juices to make 1/4 to 1/3 cup. Add the juices to the marinated vegetables and mix well. Prepare all the animal and vegetable proteins and cheeses. Prepare all the garnishes. Put all the ingredients in individual bowls.
Assembly
In attractive salad plates or bowls, layer all ingredients starting with the lettuce, followed by some marinated vegetables, some canned/jarred ingredients, some chicken, some seafood, some cold cuts, some vegetable proteins, and some of the cheeses. Repeat these layers until you've used up all the ingredients. Make sure the last layer shows a little of every ingredient used.
Finish the servings with the garnishes. Start with the baby corn, then use the egg wedges, radishes, yellow onion, mushrooms, asparagus spears, the cheese, and the chili.
Amalia's Notes
Marinated and pickled foods taste less salty when they're cold. Taste the fiambre for seasoning at the temperature it will be when you serve it and adjust seasonings, if needed.
Fiambre rojo should look medium to dark pink (beets color the mixture and using more or less will determine the hue). It keeps for 3-4 days after assembly. Or you can freeze it in small portions.
What traditionally follows this meal is a fruit dessert such as ayote en dulce (acorn squash in spiced panela sauce), or jocotes en dulce (a fruit native to Guatemala cooked in spiced panela sauce). Desserts do vary from family to family and can include other sweets determined by region.
For a tasty vegetarian fiambre, substitute vegetable stock for chicken stock, leave out all animal proteins, and increase the amount and variety of legumes, cheese and eggs (if desired). For fiambre blanco (white fiambre), omit the beets. For fiambre verde (green fiambre), substitute the beets and carrots with green vegetables.